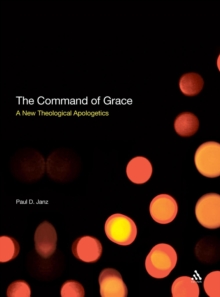 The Command of Grace : Foundations for a Theology at the Centre of Life
Hardback
Description
"The Command of Grace" sets forth a bold new critical initiative in theological apologetics, one that advances a fundamental reassessment of theological self-understanding and method today, especially in its attentiveness to the present reality of God in revelation.
Many recently predominating trends have tended to treat theological truth as something cognitively self-guaranteeing ('tauto-theological') within doctrinal or other theoretical domains.
Against this, and drawing on the philosophical heritage as well importantly on Jewish thought, the book seeks to revive for fundamental theological questioning other basic modes of human attentiveness which, under an array of 'cognitively mono-visional' influences, have become largely lost to theology since 1800, even though they continue to thrive in the life of faith in the church itself.
These are: a??causala?? attentiveness encountered through the faculties of bodily sensibility; and 'appetitive' or 'motive' attentiveness encountered in the faculty of desire. Especially crucial here is the rejuvenation of the primacy of 'motive reasoning' (reasoning with regard to motivations and desires) for theology's apologetical self-understanding, in addition to its normal engagement with 'cognitive reasoning' (reasoning with regard to percepts and concepts).
If God in his transcendent 'Godness' meets us in revelation not at the margins of the speculative intellect in the form of a denotatum for cognitive apprehension, but rather at the very center of embodied life in the form of a summons to motivated action, then theology must seek to be attentive to God through all the endowed faculties of embodied-rational life: cognitive, sensible, and motive-appetitive.
Information
Format: Hardback
Pages: 192 pages
Publisher: Bloomsbury Publishing PLC
Publication Date: 10/02/2009
Category: Christian theology
ISBN: 9780567033581
Free Home Delivery
on all orders
Pick up orders
from local bookshops