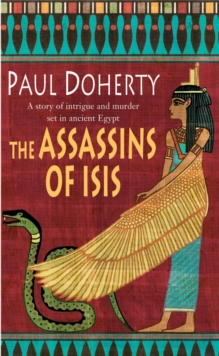 The Assassins of Isis
Paperback
Description
Somewhere deep in the desert, the location of Rahimere's tomb has long been kept a closely guarded secret.
But now, the Sebaus - a sect taking its name from demons - has plundered and pillaged the sepulchre for its most powerful treasure. The fiery Pharaoh Queen Hatusu must fight to protect the tombs of her kin and tighten her grip on the collar of Egypt.
But when Egypt's great military hero, General Suten, is bitten to death by a swarm of venomous vipers, it appears events have spiralled out of her control. Meanwhile, a dark shadow lies across the peaceful Temple of Isis; four of the temple handmaids have vanished without trace.
Will Lord Amerotke, Pharaoh's Chief Judge, find that the perpetrators are in league with forces beyond his jurisdiction?
Information
Format: Paperback
Pages: 416 pages
Publisher: Headline Publishing Group
Publication Date: 01/08/2005
Category: Crime & mystery
ISBN: 9780755307821
Free Home Delivery
on all orders
Pick up orders
from local bookshops
Reviews
Showing 1 - 1 of 1 reviews.
Review by janerawoof
27/08/2015
Another in the series of ancient Egyptian mysteries featuring the astute Chief Judge Amerotke and his sidekick the dwarf Shufoy during the reign of Hatshepsut [Hatusu]. This one involves tomb robbers, murders, arson and kidnapping of four temple maidens. The intrepid duo set out to solve the crimes and capture a gang led by the mysterious Khetra. I liked the characters bouncing theories of 'whodunnit' off each other and why. The ending did seem neatly wrapped up, where Amerotke got everyone together he thought might be guilty in some way into a room. He threw out his solution, then confessions flew left and right, out of the blue. This seemed implausible and contrived. Usually although I usually can't figure out the guilty party, the solution will logically trail back to him or her. The author seems to know his Egyptian history and something of the culture--a positive--but the characters were all wooden and I couldn't connect with any. Light, escapist reading, nothing of note here. I may try something from the author's other mystery series, but I don't think I'll read any more of these.