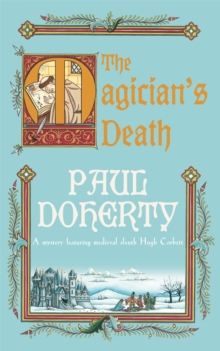 The Magician's Death
Paperback
Description
The monk and scholar Roger Bacon claimed to have seen many marvels of nature and science and concealed these in a book written in an unbreakable code.
Sir Hugh Corbett has been instructed to organise agents in Paris to steal this Book of Secrets.
They do so but pay a violent price and the French King Philip IV now wishes a meeting between the scholars of England and France to discuss breaking the code.
Edward I has no choice but to allow the meeting to take place at Corfe Castle, which becomes a place of murder and mayhem.
Young women from the castle are being slain whilst horrific things are witnessed in the nearby forest.
The situation becomes more serious when two of the French scholars die in sinister circumstances.
Corbett and Ranulf-atte-Newgate have to thread this maze of malevolent murder whilst trying to decipher the great secrets of one of England's most outstanding scholars.
Information
Format: Paperback
Pages: 384 pages
Publisher: Headline Publishing Group
Publication Date: 06/12/2004
Category: Crime & mystery
ISBN: 9780755307753
Free Home Delivery
on all orders
Pick up orders
from local bookshops
Reviews
Showing 1 - 3 of 3 reviews.
Review by Carpe_Librum
16/06/2015
This is the fourteenth book in the medieval mystery series featuring Sir Hugh Corbett. As in every book in the series, Doherty weaves fact into his story, making it a convincing historical fiction.This time Corbett and his retinue are called to Corfe Castle in England to discuss Roger Bacon's Book of Secrets. I enjoyed the premise of this story immensely, and found reference to the works of the controversial scholar quite intriguing. Roger Bacon imagined inventions such as the aeroplane and submarine and this book by Doherty has inspired me to investigate this further at some point in the future.However, it's not long before murder reaches Corfe Castle and Corbett is almost assassinated by the killer. His investigative skills are put to the test again as young women from the Castle are found slain and two French scholars who are also gathered in an attempt to decipher the code in The Book of Secrets, seem to have had suffered fatal accidents.I'm still enjoying these historical fiction mysteries set in 1300s England however this has been the longest series I've ever read from start to finish. I'll enjoy 'catching up' to the most current one so to speak and really enjoyed this one.
Review by phoenixcomet
16/06/2015
First time I ever read a Hugh Corbett mystery and discovered that I enjoyed the author's writing style. Clerk of the British crown, Hugh Corbett is sent to Corfe Castle to meet with the French delegation from Paris to discuss the Secretus Secretorum of Franciscan Francis Bacon. The only problem is that local girls are being murdered by a cross-bow bolt thru the chest, and no one from either delegation can figure out the code to Bacon's work. Also, the members of the French delegation are dying freakishly. I quite enjoyed this.
Review by FMRox
16/06/2015
Sir Hugh Corbett and entourage, clerks and spies for the British King Edward travel to southeast England for a scholarly meeting with King Philip of France's Sorbonne scholars. The meet to attempt to decipher a secret manuscript written in code. During the meeting Corbett helps solve the crimes of several murdered young maiden in and around the castle grounds, help discover the mystery around the mysterious deaths of the French envoy, helps defend against a Flemmish pirate attack on the host's fort and eventually figures out the mysterious manuscript.This book has several plots going on all at once. The author does a good job of weaving them through the story line. There are some underlying religious/spiritual undertones. This is the first one I read in the series and I selected it based on the title, because I like magicians and magic-there is neither in the novel. Not sure who I like the main protagonist-he seems to be good at everything with no flaws.