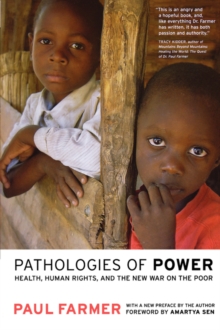 Pathologies of Power : Health, Human Rights, and the New War on the Poor
Paperback
Description
Pathologies of Power uses harrowing stories of life--and death--in extreme situations to interrogate our understanding of human rights.
Paul Farmer, a physician and anthropologist with twenty years of experience working in Haiti, Peru, and Russia, argues that promoting the social and economic rights of the world's poor is the most important human rights struggle of our times.
With passionate eyewitness accounts from the prisons of Russia and the beleaguered villages of Haiti and Chiapas, this book links the lived experiences of individual victims to a broader analysis of structural violence.
Farmer challenges conventional thinking within human rights circles and exposes the relationships between political and economic injustice, on one hand, and the suffering and illness of the powerless, on the other. Farmer shows that the same social forces that give rise to epidemic diseases such as HIV and tuberculosis also sculpt risk for human rights violations.
He illustrates the ways that racism and gender inequality in the United States are embodied as disease and death.
Yet this book is far from a hopeless inventory of abuse. Farmer's disturbing examples are linked to a guarded optimism that new medical and social technologies will develop in tandem with a more informed sense of social justice.
Otherwise, he concludes, we will be guilty of managing social inequality rather than addressing structural violence.
Farmer's urgent plea to think about human rights in the context of global public health and to consider critical issues of quality and access for the world's poor should be of fundamental concern to a world characterized by the bizarre proximity of surfeit and suffering.
Information
Format: Paperback
Pages: 438 pages
Publisher: University of California Press
Publication Date: 16/11/2004
Category: Poverty & unemployment
ISBN: 9780520243262
Other Formats
Hardback from £29.45
PDF from £26.95
Free Home Delivery
on all orders
Pick up orders
from local bookshops
Reviews
Showing 1 - 2 of 2 reviews.
Review by McCaine
16/06/2015
Paul Farmer, perhaps the most famous 'Third World doctor' living today, has written an eloquent and moving plea for a reconsideration of modern approaches toward healthcare in the developing nations in this book, "Pathologies of Power". Based on his personal experiences of care in Haiti, but also his professional visits to Russia, Africa, Central America, Mexico, Cuba and many other places besides, Paul Farmer demonstrates that the problematics of healthcare and those of poverty and inequality are insolubly linked in these nations. Whoever says "heal the sick" must also say "end poverty", for the one is not possible without the other; and whoever says "prevent disease" must also say "destroy socio-economic inequality", for the one is not possible without the other. That is the message of this book. A large part of the work consists of reflections by Farmer on his experiences in Haiti and elsewhere and on the way in which the current worldwide economic structures engender a genuine and systematic violence against the rights of the poor. Strongly inspired by liberation theology (though not necessarily religious), Farmer eloquently and effectively contrasts the heavy importance attached to individual political and legal rights with the way in which the violations of rights done by structural inequalities and injustices is wholly ignored in the same circles that would complain about the former. Rights issues are the domain of jurists, development issues the domain of (liberal) economists; but the way in which the poor and weak are constantly crushed by the systematic repression that is poverty and inequality, at least as real and at least as much a violation as any torture, that seems to be the domain of nobody at all. As Paul Farmer clearly shows, even in the lately so blossoming domain of medical and bioethics the issue of socio-economic structures is completely swept under the carpet. As he says, this really is the "elephant in the room". The same also goes for the oft-invoked importance of efficiency. Callous and counterproductive Western, often American, inspired healthcare policies in the developing nations (among which we must now sadly share Russia as well) generally fail at providing effective treatment against simple preventable disease such as TBC, because those medications that would actually help are considered "not cost-effective". This is in fact just a polite way of saying "we don't care about these people", but then phrased in a manner that will lead to less of an uproar in the newspapers. Farmer however is not fooled so easily, and sees this for what it is - a structural repression of the developing nations by the developed ones, in the name of "efficiency", i.e. efficiency in achieving the aims of the Western states. This book is a very powerful work, and a strong indictment of the prevailing attitude towards healthcare and development issues and the little attention paid to their interrelation. It also demonstrates convincingly how the current worldwide economic system is bad for everybody's health. And what could be a more important thing than that?
Review by obiebyke
16/06/2015
I've been meaning to read some Farmer for years now and finally got around to it. Gave me a whole new perspective on how the world works, and a new way to think about global inequality.
Also in the California Series in Public Anthropology series | View all