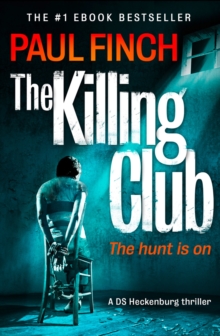 The Killing Club
Paperback
Description
Get hooked on Heck: the maverick detective who knows no boundaries.
The perfect read for fans of Stuart Macbride and Luther. DS Mark `Heck' Heckenburg is used to bloodbaths.
But nothing can prepare him for this. Heck's most dangerous case to date is open again.
Two years ago, countless victims were found dead - massacred at the hands of Britain's most terrifying gang. When brutal murders start happening across the country, it's clear the gang is at work again.
Their victims are killed in cold blood, in broad daylight, and by any means necessary. And Heck knows it won't be long before they come for him. Brace yourself as you turn the pages of a living nightmare.
Welcome to The Killing Club.
Information
Format: Paperback
Pages: 480 pages
Publisher: HarperCollins Publishers
Publication Date: 22/05/2014
Category: Crime & mystery
ISBN: 9780007551255
Other Formats
EPUB from £1.99
eAudiobook MP3 from £11.59
Free Home Delivery
on all orders
Pick up orders
from local bookshops
Reviews
Showing 1 - 2 of 2 reviews.
Review by atticusfinch1048
16/06/2015
So #HookedonHeckPaul Finch is back with The Killing Club as his follow-up to Stalkers and oh my God what a follow-up. This is fast paced high intensity crime thriller that ticks all the boxes and more as DS Heckenburg tears up and down the country as everyone falls around him. If you are looking for that page turner this is it! As you near the end of the book you want to slow down to make it last but there is that urging that you really need to know what happens and who will make it through to the end. This is not you're run of the mill police procedural thriller this is high octane and explosive literally at times. DS 'Heck' Heckenburg is not really a defective detective he just tends to ignore common sense and orders but somehow he gets the job done, personally I would not want to be stood around him while he does as his colleagues have a nasty habit of winding up injured.The Killing Club has moved on from Stalkers in a time period of two years the leader of the Nice Guys is safely locked up for the next thirty years of his life courtesy of Heck and he is up in Sunderland working a case before heading back down south. The Police are still trying to get information out of Mad Mike Silver and Heck has been sidelined deemed. Even when Mad Mike has been broken out of prison he is still sidelined. The Nice Guys seem to be making a point especially as the body count and the ordinance count rockets. Heck wants to be part of the investigation but the Police brass still block his attempts, even though he predicted that the Nice Guys were now cleaning house and tries to insert himself in to the investigation he is removed and told to investigate he has been allocated. On his way to that investigation Heck becomes a real target for the Nice Boys as they try to take him out on the busy streets of London. Somehow he manages to escape their attempts not without a thrilling chase on defunct underground stations and lines.For his own safety he is put in to protective custody but the more he thinks about it the more he knows he needs to take the fight to them before they comeback for him. He needs to escape the clutches of his protective detail and find where the Nice Guys are which means a high octane chase across the country. As Heck tries to find the Nice Guys bodies are still dropping all over the country in totally random places. Has he got it in him for one last hunt and find the Nice Guys while also finding their mole? For Heck it is too late to worry he knows what he should do and what he will do and that gives us the thrill.An absolute stonking thriller worth every second of time invested in reading The Killing Club. Through the excellent prose and imagery used by Paul Finch you feel as if you are part of the thriller completely absorbed in it. DS 'Heck' Heckenburg proves that all us northerner are a tough lot that do not know when we are beaten however many times he gets hit. Stunning and fabulous the only shame is that The Killing Club will leave you begging for more of Heck and the wait will seem like a lifetime.
Review by RowingRabbit
16/06/2015
This is part of the DS Mark Heckenburg series &amp; a follow up to "Stalkers". In that book, Heck &amp; Co cracked a case involving the "Nice Guys", a misnomer if there ever was one. A group of trained mercenaries ran a rape-for-hire business catering to men with more money than morals. For a whack of cash, the NG's would snatch the woman of your choice &amp; provide a secure space for you to have your depraved way with them. They also handled clean up.<br/>When the smoke cleared, only ringleader Peter Rochester ended up in prison. Since then, Heck's boss (and former lover) Det. Spt. Gemma Piper had been trying to wring information from him. They know he ran the UK franchise of the organization &amp; there are more bodies out there somewhere. <br/>Gemma is running the investigation with Commander Frank Tasker of Scotland Yard's serious crimes unit. Because of Heck's personal connection with the previous case, he's been shut out &amp; relegated to garden variety crimes. He's not taking it well.<br/>And when Rochester breaks out with the help of some of his foreign colleagues, no one at the Yard is taking it well either.<br/>A huge task force is created, bodies start to pile up &amp; the media goes crazy. It's a nightmare for police on every level but Heck is still sidelined. Worse, because of his acrimonious relationship with Tasker (he of the fake tan), he's suspected of murder. <br/>What's a guy to do but take matters into his own hands? Especially if that guy is a smart &amp; motivated, if a tad impulsive, detective prone to going it alone. Game on.<br/>As the NG's crisscross the country killing off loose ends, Heck uses all his experience &amp; skills to close in. Due to certain events, he's not sure who he can trust at the Yard which is unfortunate when he hits the NG's radar. <br/>This is a full on thriller full of car chases, shootouts, murder &amp; double crosses. The large cast includes cops, bad guys &amp; innocent bystanders. The manhunt makes up most of the plot but lurking in the background is the history between Heck &amp; Gemma. Their affair was years ago but they've remained close despite her impressive rise through the ranks. No spoilers here but that relationship will be altered once again by the end. <br/>This is a fast paced, entertaining read with a likeable, sympathetic hero. Yes, there are moments where you will have to more than suspend your disbelief. The fact Heck is still standing after multiple death defying run-ins makes you want to frisk him for horse shoes &amp; rabbits' feet. Trust me, John McClane has nothing on this guy. <br/>So it's not the most realistic or believable police procedural you'll read. Instead, it's an action packed &amp; well plotted thriller with interesting characters &amp; a few nice twists that will keep you turning thew pages.
Also in the Detective Mark Heckenburg series | View all