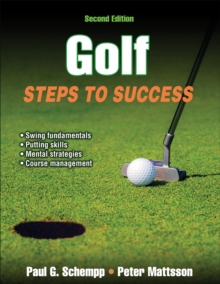 Golf : Steps to Success
Paperback / softback
Description
Develop a consistent swing and master every golf shot on your way to a lower handicap.
Golf: Steps to Success provides detailed, progressive instruction with accompanying full colour photographs for every shot, from putts, chip shots, and pitch shots to shots from the fairway, off the tee, bunker and rough and bad lies.
Practice and improve your shotmaking with drills that feature a scoring system to gauge and accelerate your progress.
After building a strong skill base, readers can improve the mental side of the game by learning to select the right club, analyse ball flight, and manage their emotions and raise their level of play and enjoyment of the game.
This self-paced learning tool allows golfers to develop a solid overall game and build on any initial golf lessons they may have had.
As part of the bestselling Steps to Success Sports Series, Golf: Steps to Success is the instructional guide you'll find most valuable not only on the practice range and green but also on every hole played.
Information
Format: Paperback / softback
Pages: 248 pages, 143 colour illustrations, 42 colour illustrations
Publisher: Human Kinetics Publishers
Publication Date: 12/06/2014
Category: Golf
ISBN: 9781450450027