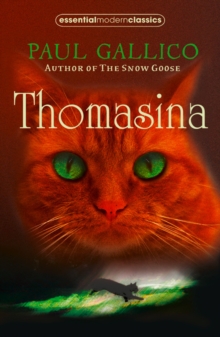 Description
Collins Modern Classics are re-launched in gorgeous new covers bringing these familiar stories to a new generation.
From the author of best-loved classic `The Snow Goose'."I was aware, from the very beginning, that I was a most unusual cat..."Thomasina is the beloved pet cat of 7-year-old Mary Ruadh, whose strict father is the town's vet.
When Thomasina falls ill, her father sees no other option but to put the cat down.
Heartbroken by his cruelty, Mary stops speaking to her father and falls dangerously ill herself.Meanwhile, Thomasina is rescued by Lori, a young woman who lives alone in an isolated glen and is rumoured to be a witch with healing powers.While Lori helps Thomasina recover from her ordeal, Mary's health continues to deteriorate and it is only when Thomasina makes her miraculous return, on a dark and stormy night, and is reunited with her owner that Mary is pulled from the brink of death.
Information
Format: Paperback
Pages: 352 pages
Publisher: HarperCollins Publishers
Publication Date: 01/03/2011
Category: Animal stories
ISBN: 9780007395187
Free Home Delivery
on all orders
Pick up orders
from local bookshops
Reviews
Showing 1 - 2 of 2 reviews.
Review by boppisces
16/06/2015
This unusual cat, Thomasina, is the beloved pet of Mary Ruadh who is aged seven. Her mother died when she was a child and her rather taciturn father is the town's vet who is impatient with owners who molly-coddle their animals with a reputation for putting animals down. One day Thomasina falls ill and her father explores no other options but to put the cat down. Grief-stricken, Mary stops speaking to her father and pines for her pet; eventually falling dangerously ill. Meanwhile, Thomasina has been rescued from her grave by an isolated young woman, Lori, who heals animals and has an affinity with nature. Thomasina doesn't remember her life with Mary, instead her dialogue is under the name of Bast-Ra; Cat Goddess of Bubastis. Evenually Mary comes close to death but on a dark and stormy night Thomasina remembers who she is and returns to her owner.Thomasina was originally written in 1957. It is bit long in parts and heavy on the religious aspect, but that is probably due to it's age. Other than that, this is a good tale.
Review by flamingrosedrakon
23/09/2015
This was one of those books that came to me in a round-about way. I was a heavy fan of Ancient Egyptian deities while my trailer-mate at the time asked if I had ever seen the Disney movie "The Three Lives of Thomasina". Having been raised Disney in the 1990s this was one movie that I hadn't seen while he kept telling me I needed to watch it but finding out the local library had chose to discontinue carrying the movie. Sadly as all things of the past go this beloved trailer-mate of mine died while it was almost all but forgotten until I came upon it re-made into a DVD, which I had ordered for myself. As fate would had it I just had to read the beginning book. Mostly as all book-readers will confess the books are usually way better than the movie although in this sense I cannot say that. The Disney movie is a wonderful and so much more simplistic adaptation for one who is troubled with the writing, the oldness of the piece and the occasional dry lengthy bits. But one thing that Disney has kept from the book and which amazes me is the voice of Thomasina, which proves to be the same in both movie and book. Anyway returning to the book I found that I was juggling this book against the movie, which I had come to love. Again the movie is way more simplistic and easier to enjoy. Paul Gallico's writing in some spots is repetitive, dry and even though keeping in reality with his customers is something hard to read sometimes. There were times I wish that I had never picked up the book in and of itself for these perks. The main characters didn't have strong personalities with the exception of one or two. The others were plain and one that you may have passed over in general life. There were gleaming glimpses where they shone out then quietly faded back into the shadows. Amazingly, though, I do have to give him that he did a glorious job on Thomasina both as regular cat and God-cat. The other thing that makes this book rough on the reader, especially those who want to veer away from the religious fight is the main second story. Ancient Egyptian mythoi rules the pages but at the same time there is the fight between the agnostic and the Christian belief.... Why should one convert? What good is God in a world, especially when He is forced? Are all believing Christians mad? And many more... But the redeeming grace of this book is the emotional depth the book contains. The author holds book none of the feelings that you find yourself in - despair, blinding rage, love, fear, confusion, nostalgia. Just like the lavender entices Thomasina the emotions will draw you in and keep the pages turning as you feel each one far within yourself. For the one who can withstand the writing and dryness I would recommend at least one read of this book before putting it away. It will be an emotional baptism that will leave you feeling thrilled yet tired by its end.
Also in the Collins Modern Classics series | View all