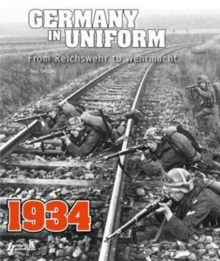 Germany in Uniform 1934 : From Reichswehr to Wehrmacht
Paperback / softback
Description
From an illustrated paper published in Berlin in 1933, this book presents uniforms of different units and state and political agencies.
It explores conventional armed forces such as marine or aviation, but also customs officers, forest rangers and members of the Nazi party. The two chapters are devoted first to the takeover of Hitler and then to the transformation of the Reichswehr in Wehrmacht, which is a consequence of the former.
In the same spirit, background tables were completed by the documents of the period, including knowledge about the rise of German forces, extracted from the archives of the second French office.
The accuracy, diversity of representation, and its aesthetic quality, make this book a valuable document for historians and amateurs alike. THIS BOOK IS IN ENGLISH.
Information
Format: Paperback / softback
Pages: 100 pages, Highly illustrated
Publisher: Histoire & Collections
Publication Date: 27/06/2013
Category: Second World War
ISBN: 9782352502814