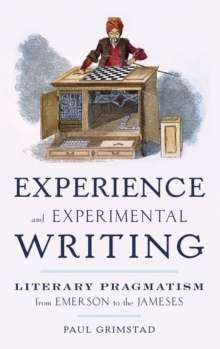 Experience and Experimental Writing : Literary Pragmatism from Emerson to the Jameses
Hardback
Description
American pragmatism is premised on the notion that to find out what something is, look to fruits rather than roots.
But the thought of the classical pragmatists is itself the fruit, this book argues, of earlier literary experiments in American literature.
Ralph Waldo Emerson, Edgar Allan Poe, Herman Melville, and (contemporaneously with the flowering of pragmatism) Henry James, each in their different ways prefigure at the level of literary form what emerge as theguiding ideas of classical pragmatism.
Specifically, this link occurs in the way an experimental approach to composition informs the classical pragmatists' guiding and central idea that experience is not a matter of correspondence but of an ongoing attunement to the process.
The link between experienceand experiment is thus a way of gauging the deeper intellectual history by which literary experiments such as Emerson's Essays, Poe's invention of the detective story in "The Murders in the Rue Morgue," Melville's strange follow-up to Moby-Dick, Pierre, and Henry James's late style, find their philosophical expression in some of the guiding ideas of classical pragmatism: Charles Peirce's notion of the "abductive" inference; William James's notion of "Radical empiricism" and John Dewey'snaturalist account of experience. The book frames this set of claims in relation to more contemporary debates within literary criticism and philosophy that have so far not been taken up in this context: putting Richard Poirier's account of the relation of pragmatism to literature into dialogue with StanleyCavell's inheritance of Emerson as someone decidedly not a "pragmatist"; to the differences between classical pragmatists like William James and John Dewey and more recent, post-linguistic turn thinkers like Richard Rorty and Robert Brandom.
Other Formats
PDF from £24.22
Paperback / softback from £26.99
Free Home Delivery
on all orders
Pick up orders
from local bookshops
Also by Paul Grimstad