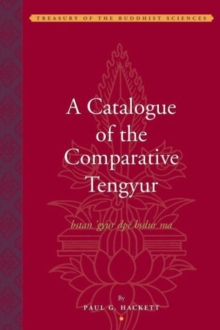 A Catalogue of the Comparative Tengyur (bstan'gyur dpe bsdur ma)
Hardback
Description
This is the second volume of a two volume set providing detailed cataloging information for the recently published Comparative (dpe bsdur ma) recension of the Tibetan Tripitaka.
The catalogue includes cross-references to four other Tengyur recensions used in the compilation of the Comparative Tengyur.
Both numbering systems used in the individual volumes and cumulative Tibetan-language catalog are given for each text.
In addition, errors found in the "tables of contents" (dkar chag) and "cross-reference tables" (re'u mig) to the published edition have been corrected and verified against the published volumes and original blockprints.
Indices to Tibetan and Sanskrit titles, Tibetan and Sanskrit authors, translators, and revisers have been added, along with concordance tables aligning catalog numbers between the various recensions. Published by American Institute of Buddhist Studies (AIBS)
Information
Format: Hardback
Pages: 825 pages
Publisher: American Institute of Buddhist Studies
Publication Date: 14/12/2019
Category: Buddhism
ISBN: 9781935011156