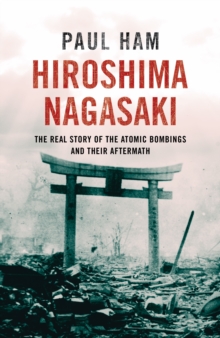 Hiroshima Nagasaki
Paperback
Description
Japan 1945. In one of the defining moments of the twentieth century, more than 100,000 people were killed instantly by two atomic bombs dropped on Hiroshima and Nagasaki by US Air Force B29s.
Hundreds of thousands more succumbed to their horrific injuries, or slowly perished of radiation-related sickness.
Hiroshima Nagasaki tells the story of the tragedy through the eyes of the survivors, from the twelve-year-olds forced to work in war factories to the wives and children who faced it alone.
Through their harrowing personal testimonies, we are reminded that these were ordinary people, given no warning and no chance to escape the horror. American leaders claimed that the bombings were 'our least abhorrent choice' and fell strictly on 'military targets'.
Even today, most people believe they ended the Pacific War and saved millions of American and Japanese lives.
Hiroshima Nagasaki challenges this deep-set perception, revealing that the atomic bombings were the final crippling blow to the Japanese in a stratgic air war waged primarily against civilians.
Information
Format: Paperback
Pages: 720 pages
Publisher: Transworld Publishers Ltd
Publication Date: 18/07/2013
Category: Asian history
ISBN: 9780552778503
Free Home Delivery
on all orders
Pick up orders
from local bookshops
Reviews
Showing 1 - 1 of 1 reviews.
Review by patrickgarson
16/06/2015
An exhaustive, horrifying, terrific work of history and journalism. Paul Ham has written an incredibly comprehensive book about the dropping of the atomic bombs. Virtually any question you have will be answered somewhere in the course of the book. Ham's primary objectives seem to be relating events from the perspective of everyday Japanese people, and thoughtfully examining some of the accepted hisotrical narratives (justifications) put out by the allies before, during, and after the bombs. On both counts, the book is tremendously successful. Ham compiles interviews, first hand testimony, diary entries, journalism and other reports into a formidable bank of evidence - most of it damning. Married to this is a heart-breaking description of life in war-time Japan, and the violent chaos experienced by residents of Hiroshima and Nagasaki. Be warned: This is not a book for the faint-hearted. Ham describes the aftermath of the bomb in great detail, and the hellscape he conjures - filled with dying children and innocent civilians - is very disturbing. Even more disturbing is how it reveals the hollowness of our glibly received "truths" about the bomb (that it was necessary, that there was warning, that it was critical in ending the war, that there were no side-effects and little fall out). Ham combs through the historical archive to demonstrate why the allies made the bomb, and how they were determined to use it regardless of the consequences. It's thorough, convincing, and ultimately very condemnatory. As a stylist, Ham's prose is neither too dry, nor too florid. His chapters are logical and interesting. Honestly, this was the most electrifying and emotional history book I've read for some time.