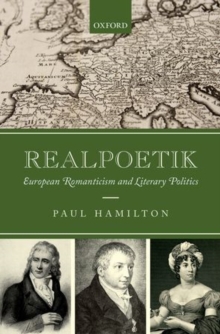 Realpoetik : European Romanticism and Literary Politics
Hardback
Description
Realpoetik compares the writings of key German, French, and Italian Romantics, with an eye to their differences from British Romanticism.
The principle of selection is to choose writers whose use of fiction is realistic - not realist, but fundamentally contributory to the purposes of non-fictional discourse.
The political resonance audible when we put Real at the start of a compound noun is also true to the period looked at.
At that time, positive politicalinstitutions were recovering from their upending in the French Revolution and their strategic re-shaping in the period of Restoration after Napoleon.
In this volume, Paul Hamilton pinpoints a moment when the political imagination was actually creative of political reality.
It is a long gloss on FriedrichMeinecke's description of the early Romantic period in Germany as 'that past era of teeming intellectual impulses with its excess of non-political political ideals', but Hamilton finds his insight into the contemporary inextricability of the ideal and the political true of France and Italy.
Before the existence of a unified Germany or Italy, and in the new France after Napoleon, there was an opportunity and a necessity to imagine the kind of nation which would be desirable.
Realpoetik examinesthe extent to which this illuminates the fiction and philosophy of Friedrich Schlegel, Madame de Stael, Giacomo Leopardi and others.
It also reflects on current dissatisfaction with existing political arrangements and our contemporary desire to re-imagine a new, more representativepolitics.
Also by Paul Hamilton