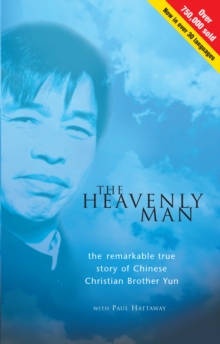 The Heavenly Man : The remarkable true story of Chinese Christian Brother Yun
Paperback
Description
This is the intensely dramatic story of how God took a young, half-starved boy from a poor village in Henan Province and used him mightily to preach the gospel, despite horrific opposition. Brother Yun is one of China's house church leaders, a man who despite his relative youth has suffered prolonged torture and imprisonment for his faith. Instead of focusing on the many miracles or experiences of suffering, however, Yun prefers to emphasise the character and beauty of Jesus. This astonishing book will form a watershed in your spiritual life.
Information
Format: Paperback
Pages: 352 pages
Publisher: Lion Hudson Plc
Publication Date: 01/01/2002
Category: Biography: general
ISBN: 9781854245977
Free Home Delivery
on all orders
Pick up orders
from local bookshops
Reviews
Showing 1 - 5 of 5 reviews.
Review by lilygirl
16/06/2015
This is a powerful story of a Chinese Christian missionary. Every time I read it I find that my faith is renewed and I am astonished that people have trouble believing in the existence of a loving God. The book is also written very well.
Review by KingstonUCA
16/06/2015
This best seller describes how Christianity spread through China despite the Government's attempts to destroy the Church and where simply owning a Bible could have horrific consequences if discovered by the authorities. This book details many miracles and visions that Brother Yun and his wife witnessed as a result of the Holy Spirit enabling people to come to Jesus. Brother Yun also describes his experiences in prison in horrific detail and how God worked through these dark times in his life. An incredible book to encourage you in your faith!
Review by OTRgirl
16/06/2015
The life story of an amazing Chinese Christian. The real moral of the story was that he should have listened to his wife...
Review by bookbatty
16/06/2015
Very challenging book. Makes you really think about how you would react in similar circumstances.
Review by jntjesussaves
16/06/2015
This was one of the greatest biographies that I have ever read before. Brother Yun has a great testimony for His Lord and Saviour, Jesus Christ. Some of the persecution and stories sound almost "unbelievable," and I guess to the unbelieving mind they are totally unbelievable. To a fellow Christian, who knows the power of God, however, it is not unbelievable at all. Brother Yun's story is a modern-day story from the book of Acts. As a Baptist, there was nothing within Brother Yun's story that would make me question its validity and trustworthiness. Very much recommended to all.Edit: I always read other's reviews after writing my own as to try not to copy something someone else has written. While every review was positve (except one- 2 stars), I wanted to say one comment in regards to the negative comment. Freedom of opinion and thought is one thing that makes America so great- praise God for America; so what I say is not so much a criticism of this review as much as a disagreement with the reviewer's assessment. This particular reviewer stated that he/she felt Brother Yun "lacked in humility." While Brother Yun did mention his fast several times along with other miracles that God performed through his amazing life, I believe every time he mentioned it he gave praise to God. And secondly, I am not sure how anyone could not see a humble spirit while reading, but apparently some can. This makes me think about the Apostle Paul when he was describing himself as "Pharisee of the Pharisees." Would any think that his reference to his "works" prior to salvation is his pride showing through? I don't think it was in Paul's case, nor in the case of Brother Yun. I will close with two comments: first, to be fair, this reviewer did not entirely criticize the testimony of Brother Yun- he/she did praise God for the wonderful things He did in Brother Yun's life. Second, I believe Brother Yun's heart and humility can be seen even on the last two pages of the book- Deling's (Brother Yun's wife) states, "Jesus is everything and we are nothing" and among Brother Yun's final words are, "You need to realize that any love I have in my heart for Jesus is only because His love for me." I do agree with this reviewer that Randy Alcorn's book Safely Home is a wonderful fiction novel dealing with persecution in China.
Also by Paul Hattaway