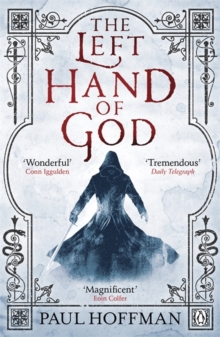 The Left Hand of God
Paperback
Description
The Left Hand of God by Paul Hoffman is the gripping first instalment in a remarkable trilogy. "Listen. The Sanctuary of the Redeemers on Shotover Scarp is named after a damned lie for there is no redemption that goes on there and less sanctuary." The Sanctuary of the Redeemers is a vast and desolate place - a place without joy or hope.
Most of its occupants were taken there as boys and for years have endured the brutal regime of the Lord Redeemers whose cruelty and violence have one singular purpose - to serve in the name of the One True Faith. In one of the Sanctuary's vast and twisting maze of corridors stands a boy.
He is perhaps fourteen or fifteen years old - he is not sure and neither is anyone else.
He has long-forgotten his real name, but now they call him Thomas Cale.
He is strange and secretive, witty and charming, violent and profoundly bloody-minded.
He is so used to the cruelty that he seems immune, but soon he will open the wrong door at the wrong time and witness an act so terrible that he will have to leave this place, or die. His only hope of survival is to escape across the arid Scablands to Memphis, a city the opposite of the Sanctuary in every way: breathtakingly beautiful, infinitely Godless, and deeply corrupt.
But the Redeemers want Cale back at any price...not because of the secret he now knows but because of a much more terrifying secret he does not. The Left Hand of God is a must read. It is the first instalment in a gripping trilogy by Paul Hoffman.
Imagine if Phillip Pullman's His Dark Materials met Umberto Eco's Name of the Rose.
Fans of epic heroic fiction will love this series. Praise for Paul Hoffman: 'This book gripped me from the first chapter and then dropped me days later, dazed and grinning to myself' Conn Iggulden 'Tremendous momentum' Daily Telegraph 'A cult classic ...' Daily Express
Information
Format: Paperback
Pages: 544 pages
Publisher: Penguin Books Ltd
Publication Date: 19/08/2010
ISBN: 9780141042374
Other Formats
Paperback from £7.09
EPUB from £3.99
eAudiobook MP3 from £9.60
Free Home Delivery
on all orders
Pick up orders
from local bookshops
Reviews
Showing 1 - 5 of 5 reviews.
Review by pierthinker
16/06/2015
Believe me, I am not a big fan of fantasy fiction. When I was a lot younger I read science fiction, but the fantasy genre never really appealed to me. I came across Paul Hoffman's 'The Left Hand of God' almost by mistake and did not really understand it is a fantasy novel until I had it home and started reading it.Hoffman certainly knows how to write. The narrative marches along with plenty of incident to develop the characters and the story. Plenty of wit too, both from the characters themselves and from the authorial voice describing the action.Thomas Cale is brought up an orphan by a fanatical Christian-like sect, the Redeemers, who make Dotheboys Hall sound like Disneyland.He and his friends escape and travel to Memphis where Cale's remarkable fighting skills are recognised and feared. A climactic battle between Memphis and the Redeemers reveals many twists in the story. A sequel is already in the works...Hoffman's use of our-world place names in incongruous ways in his-world help keep us off balance and emphasise the strangeness rather than the familiarity of this universe. A sprinkling of words we can guess at the meaning of, but are completely made up just add to the mystery.I recommend this book as much as a medieval historical actioner as mch as a book of fantasy. Fast moving, punchy and with plenty of loose ends to make the sequel more than just a re-hash of this plot.
Review by iftyzaidi
16/06/2015
The phrase 'rollicking adventure' strikes me as the most apt description of this book. I found it to be a page-turner. The story follows Cale, an acolyte being trained for war in a monastery run by a fanatical religious sect called the Redeemers engaged in a long running holy war. Cale has certain peculiar talents that set him apart from the norm, a fact not lost on the priest in charge of training. However a chance encounter (or perhaps not a chance encounter - its never explained) see Cale and two of his friends fleeing the monastery for their lives and getting embroiled in plots, duels, affairs, assassinations and the fate of kingdoms.There's nothing particularly new in the plot, but where the book is distinctive is firstly in the odd, chatty omniscient narrator style that the author adopts, which, judging by some of the other reviews here, seems not to work for everyone, but helped to hook me in, and secondly, in the strange almost-familiar world that the author constructs, where places like Norway, Jerusalem, Memphis and York exist, but the political set up is different to what existed in our history. At the same time, while there are throw-away references to Judaism, the Redeemer of the major religion is categorically not Christ (who is famous apparently for having lived in a whale) and he was hung in a gibbet and not a cross. Some readers did not appreciate these tantalizing hints of a parallel-world setting, but I felt it added to the atmosphere and fit well with the oft-times familiar idiom of the way people spoke.If there is one aspect of the novel I didn't like, it was the somewhat Robert Jordan-esque approach to writing about the female characters. Other than this drawback, I thought this was a grandly entertaining novel.
Review by Suzejamesy
16/06/2015
I felt like this book peaked at the beginning and then slowly became less interesting until very near the end. That being said, I still enjoyed it. I though Cale was a fascinating character, as was Bosco and I look forward to reading the next book.
Review by whimsicalwattle
16/06/2015
This is more of a 3.5 star book than a 3 star, but as we can't give halves, I've had to round down.<br/><br/>I must admit, I was fairly skeptical when I first came across this book. Titles with the word 'God' in them, tend to put me off because it's usually something about organised religion. And while this is about organised religion in a fantasy world, it is different that it's more of a thinly veiled attack on Christianity, which may make readers uncomfortable (as I've noticed in some reviews) while others may not care (such as myself).<br/><br/>The book itself is quite well written, though toward the end it became a bit of a hot mess. I couldn't concentrate while reading the final battle scene because there was too much going on and it was repetitive (and kind of boring, if I'm being honest). It's so obviously left open ended for the next novel that it doesn't seem like an end at all, merely a 'oh I have to finish here now because there's another story to be told'. But whatever, I'll read the second book, once I get it.<br/><br/>While I do find it quite unbelievable that the main character is meant to be fourteen years old, I just ignored that part in favour of pretending he was older. Suspension of belief is a must when it comes to some of the plot of this book, though it was good enough to keep me interested, up until the last 50 or so pages.<br/><br/>A satisfying read, that may well be improved upon in the next novel.
Review by imyril
16/06/2015
Would-be grimdark End of Days fantasy, but reads more like 3 Stroppy Teens are railroaded through a dodgily plotted role playing campaign. Overall, irritating, dull and unlikeable. I simply can't understand what critics and fans see in it.