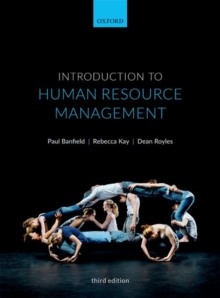 Description
Using their extensive experience teaching and working in HRM, Banfield, Kay, and Royles succinctly convey the reality of contemporary HRM through expert academic and practical insights.
Their balanced approach ensures students are able to fully grasp both the theory and practice of HRM, paving the way for success in their academic studies and future careers.
With its engaging writing style, this book is the ideal introduction to HRM for students at both undergraduate and postgraduate level.
Key terms, research insights, and review questions help students understand the key theoretical concepts and think critically about the issues discussed.
Mini-case studies (HRM insights), longer end-of-chapter case studies, and practitioner insights from real HR professionals at a variety of organizations present different scenarios and challenges experienced in the world of business.
This range of learning features ensures students are exposed to both the theoretical foundations and the real-life practices of HRM.
The book takes a holistic approach to the subject, presenting HR operations and considerations as an integral part of any business.
The authors begin by introducing the reader to the challenges and the evolution of the HR function before addressing key operational areas such as talent management, ethics, leadership, recruitment, and misconduct.
They go on to explore how these challenges are managed, with an emphasis on practicality.
ONLINE RESOURCES: For Students: *Insights and Outcomes*Extension Material*Glossary*Web Links*Multiple-choice Questions*Chapter on Health and Safety For Lecturers: *Test Bank*Suggested Answers to Case Study Questions*Suggested Answers to Review Questions*Additional Case Material*PowerPoint Slides*Seminar Exercises
Free Home Delivery
on all orders
Pick up orders
from local bookshops