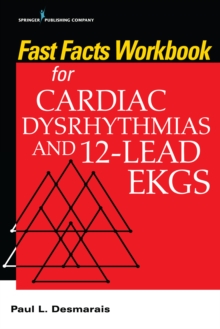 Fast Facts Workbook for Cardiac Dysrhythmias and 12-Lead EKGs
Paperback / softback
Description
This workbook presents a multitude of practice examples to help critical care students and practitioners grasp and excel at key concepts of 12-Lead EKG and dysrhythmia interpretation.
Designed to supplement any established dysrhythmia textbook, this straightforward resource is ideal for new graduates and nurses who are considering a switch to critical or acute care.
This book distills complexities of the 12-Lead to determine if a patient is safe or at risk. Fast Facts Workbook for Cardiac Dysrhythmias and 12-Lead EKGs delivers instruction on all foundational aspects of EKG interpretation.
It contains numerous practice examples with instant feedback to provide nursing students with much-needed reinforcement of this often-challenging content.
Feedback includes a detailed discussion of the "why" behind the diagnosis and treatment often missed by students and beginning clinicians. This book is divided into three parts. Part I begins with an Introduction and General Principles.
Part II progresses into Atrial Rhythms, Junctional Rhythms, AV Blocks, Ventricular Rhythms, Pacemakers, and 12 Lead EKG, including valuable practice exercises with abundant rhythm strips in each chapter.
Part III provides answers to all the practice examples that include Correct Interpretation, Treatment and Discussion. Key Features:Delivers a handy practice workbook on EKG interpretation for new and experienced critical and acute care nurses and students in these specialty areasOrganized to present information from simple to complexIncludes numerous practice strips and exemplars with detailed information on correct interpretation, treatment, and discussionFeedback on exemplars promotes critical thinking and clinical understandingCan be used effectively with all current EKG instructional resources to provide much-needed practice examplesFeatures over 80 practice strips
Information
Format: Paperback / softback
Pages: 250 pages
Publisher: Springer Publishing Co Inc
Publication Date: 30/12/2018
Category: Cardiovascular medicine
ISBN: 9780826175038