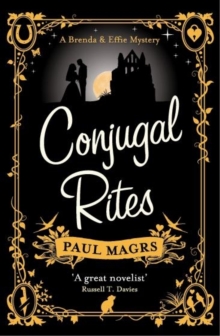 Description
The gripping new instalment of the adventures of Brenda and Effie.No matter what she tries to do, trouble has a way of finding Brenda.
It's hardly surprising with secrets like hers. When her old adversary Mr Danby starts filling the airwaves with his late night phone in show it can only mean one thing - and sure enough best friend Effie soon finds herself up to her neck in it.
But that is only the beginning; fate has an even bigger surprise in store.
Romance is in the air for Brenda and, do what she will, she cannot deny that she and her man were made for each other - literally.
But as usual, Brenda and Effie will face up to whatever dangers come their way with fortitude and grace: even if that means journeying to places beyond their wildest dreams.
Information
Format: Paperback
Pages: 432 pages
Publisher: Headline Publishing Group
Publication Date: 05/03/2009
Category: Fantasy
ISBN: 9780755346431
Free Home Delivery
on all orders
Pick up orders
from local bookshops
Reviews
Showing 1 - 2 of 2 reviews.
Review by LyzzyBee
16/06/2015
18 May 2010 (Amazon)Yup, read out of order. Couldn't wait that long to catch up with the adventures of Brenda & Effie!It's hard to review these books without giving away the plot. So all I'll say is that we have more classic adventures, giggles and oohs and aahs as we meet characters old and new, spend more time with Sheila Manchu, and decide who is going to Hell! In a departure from the first two books, this is written by a narrator rather than in Brenda's words, but this gives us more of an insight into other characters' thoughts and feelings.I particularly liked the nods to classic children's books - the snow queen from Narnia, Bedknobs & Broomsticks...Another excellent read that I almost couldn't put down when I was meant to be working today. Bring on the next one!
Review by polarbear123
16/06/2015
Whenever I read one of these books I always subconciously compare them to the Malcolm Pryce Aberystwyth books. There is more fantasy here, just but I think on balance you get a more complex satisfying mystery from the Pryce books- if you are looking for a rollicking fast paced adventure in the style of a Pratchett novel then Magrs is your man. Just sometimes I wish there was a little more depth to the storyline.