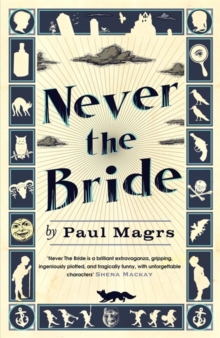 Never the Bride
Paperback
Description
Brenda has had a long and eventful life, and she has come to Whitby to run a B&B and enjoy some peace and quiet.
She and her best friend Effie like nothing better than going out for tea and keeping their eyes open for mysterious goings on in town. And what with satanic beauty salons, roving psychic investigators and the frankly terrifying owner of the Christmas Hotel there's plenty to watch.
But the oddest thing in Whitby may well be Brenda herself.
With her terrible scars, her strange lack of a surname and the fact that she takes two different shoe sizes, Brenda should know that people as, well, unique as she is just aren't destined for a quiet life.
Information
Format: Paperback
Pages: 288 pages
Publisher: Headline Publishing Group
Publication Date: 03/05/2007
Category: Fantasy
ISBN: 9780755332885
Free Home Delivery
on all orders
Pick up orders
from local bookshops
Reviews
Showing 1 - 5 of 5 reviews.
Review by EvaElisabeth
16/06/2015
Moderately fun brain candy, I'd buy a sequel if it came out and I needed something to read. Preferably I'd check it out of the library though.
Review by riverwillow
16/06/2015
love books like this, they are fun and play around with popular culture. There are other authors out there I would recommend before this one, Terry Pratchett (and long may he continue to write) and Jasper Fforde, but this book passed the time nicely. If you don't like fantasy fiction don't read this book.
Review by AlexDraven
16/06/2015
I picked this up because of the Whitby setting, and was left utterly delighted.
Review by LyzzyBee
16/06/2015
15 Jan 2010 (Amazon)Brenda has retired to Whitby to run a B&B. She likes an outing to Cod Almighty for fish and chips with her pensioner friend Effie, and they both like to keep their beady eyes on anything... strange that's going on in town. And strange there certainly is, from a Christmas themed-hotel with peculiar cocoa, to a beauty salon that turns back time a little *too* far, and a mysterious but very well groomed gentleman going by the name of Mr Alucard, who has updated himself somewhat since the old days.Even Brenda and Effie have their mysteries, Brenda's in her own past, and Effie's in her family's, and we're soon on the rampage through Whitby's finest oddities as they investigate, nose and cause havoc. With a plot that's divided into long episodes, a cast of amusing and brilliantly-created characters, and writing that brings to mind the deadpan northern one-liners of old Corrie episodes, Jane Gardam, or dare I say it, Alan Bennett.An excellent read - in fact a re-read as I have picked up the second Brenda & Effie story and wanted to reacquaint myself with their doings.This is what I thought of it the first time:Bought 11 Aug 2007 (Bookends) - reviewed 06 Dec 2007An excellent novel set in Whitby, where strange goings-on in a rejuvenation centre and a Christmas themed hotel are investigated by a couple of rather strange pensioners. A bit camp, with in-jokes about classic horror literature and a galloping plot, I really enjoyed this and couldn't put it down. As I probably won't re-read (the plot is a very big part of it), I'm going to register it (even though it's a signed copy!!!) and give it to one of two people who regularly go to Whitby, so they can read and release it there!Can't believe I got rid of a signed copy even though it probably went off to Whitby!
Review by isabelx
16/06/2015
Effie keeps asking when I'll be due for my bus pass. She's guessed it must be soon. She already has hers and isn't too proud to get on the buses for nothing. Effie says that when I have mine, we'll go on trips together, up the wild north coast, and count the pennies we're saving. I haven't the heart to tell her my pension will never come. I can't bring myself to say I'm not on the official records. Really, I don't exist. It's hard to explain that to your best friend.Brenda is a newcomer to Whitby. After a long and mysterious life, she has decided to settle down and is now the proud owner of a B&B. Her new best friend Effie, lives next door and runs a junk shop. But Whitby isn't the quiet seaside town that it appears on the surface, and there re plenty of odd people and mysterious events for Brenda and Effie to get their teething into. A short book and easy read, that left me keen to read the other books in the series.