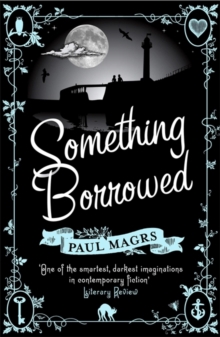 Something Borrowed
Paperback
Description
Brenda must face her demons, but first she needs to get to the bottom of the sinister goings-on that threaten to overcome an all-too-quiet seaside town. When poison pen letters start flying around the quiet lanes of Whitby, trouble is in store for Brenda and Effie. And with Jessie the Zombie Womanzee, trips down memory lane and amorous ghoul hunting, literary minded and strangely youthful professors of Icelandic history, as well as a terrifying encounter with bamboo wickerwork gods from the dawn of time, even Brenda's ample cup is running over.
But her most challenging battle is the one she must fight with herself - or, at least, parts of herself...
Information
Format: Paperback
Pages: 400 pages
Publisher: Headline Publishing Group
Publication Date: 20/03/2008
Category: Fantasy
ISBN: 9780755332915
Free Home Delivery
on all orders
Pick up orders
from local bookshops
Reviews
Showing 1 - 3 of 3 reviews.
Review by iamiam
16/06/2015
Better than the first in some ways, as there's more of a through line and less episodic of a nature to the story. If you liked "Never the Bride' and were interested by the concept and set-up, then this is the one you'll want to read to see things fleshed out. Magrs has continued to fold the various types of Important Story Characters from horror and fantasy works of the UK into one realised form with skill and ease.I don't agree that one has to have read the first to make sense of the story here, as there are more than enough points reviewed to keep the un-initiated reader informed as to what's on the go here in Brenda & Effie's version of Whitby. Haver no longer; read this.
Review by riverwillow
16/06/2015
This book is just as bonkers as the first book as Brenda and Effie settle down in Buffy The Vampire Slayer style on the edge of a hell mouth in deepest darkest Whitby. I don't want to give too much away, except to say that even more shenanigans ensue as they deal with the various beings and entities drawn in by the hell mouth. I love how Magrs mixes up the genres, horror, fantasy, detective fiction all take their turn in this fun book. Although I enjoyed this book, I have to say that on balance think that the first book is better than this one. But I really want to find out just what is going on at the Christmas Hotel so will definitely read the next instalment when it comes out
Review by polarbear123
16/06/2015
Read this one a long time after reading the first book. Just about remembered what happened in the first one although this was useful in jogging my memory. This was an enjoyable read - a little bit of silliness is always welcome from time to time. For a mystery though I like to feel a bit of tension in the storyline and I just didn't feel this while reading on. Perhaps this is because the storylines are just a bit too unbelievable to take seriously. Tension and danger = good mystery . Needed to have more of both of these ingredients.