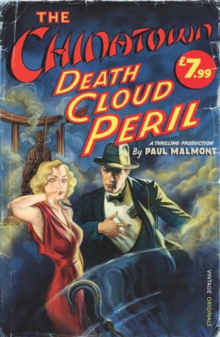 The Chinatown Death Cloud Peril
Paperback
Description
Who Knows What Evil Lurks in the Hearts of Men?Take a journey back to the desperate days of America post the Great Depression, when the country turned to the pulp novels for relief, for hope and for heroes.
Meet Walter Gibson, the mind behind The Shadow, and Lester Dent, creator of Doc Savage, as they challenge one another to discover what is real and what is pulp. From the palaces and battlefields of warlord-plagued China to the seedy waterfronts of Rhode Island; from frozen seas and cursed islands to the labyrinthine tunnels and secret temples of New York's Chinatown, Dent and Gibson will find themselves in a dangerous race to stop a madman destined to create a new empire of pure evil.
Together with the young pulp writer L. Ron Hubbard, a mysterious stranger, and a sexy psychic with a chicken, they will finally step out from behind their creations to take part in a heroic journey far greater than any story they have imagined. The Chinatown Death Cloud Peril is a breathtaking epic of magic and love, marriage and fatherhood, ambition and loss, and writers who never forget their deadlines, even when facing the end of the world.
Information
Format: Paperback
Pages: 384 pages
Publisher: Vintage Publishing
Publication Date: 01/03/2007
ISBN: 9780099507338
Free Home Delivery
on all orders
Pick up orders
from local bookshops
Reviews
Showing 1 - 1 of 1 reviews.
Review by irkthepurist
16/06/2015
Oh so close to being utterly brilliant. Malmont's romp is sort of post modern tribute to the great writers of the American Pulps without being - well - post modern. And as such it's a brilliant, brilliant thing. Lester Dent and Walter B Gibson - not much known over here in the UK - and supporting acts including a surprisingly vivid L Ron Hubbard (nicely treading the line between git and sympathetic figure), E E "Doc" Smith, Chester Himes, Robert A Heinlein, H P Lovecraft, Louis L'Amour and a host of others battle a nicely judged bit of skullduggery with some really pacey and enjoyable sequences of action. Plus it's a really helpful guide to neophytes of the pulps like myself.The only problem is... dear god, has any author been less willing to cut any of his research and just identify the salient and useful bits to put into the narrative? Huge chunks of dialogue seem to be rehashed bits of research Malmont has done - well rehashed, I admit, but still... the beauty of these things is that when done brilliantly (off the top of my head Charles Palliser's "The Quincunx"), the research should show but more importantly should show later when you go to the source material and try and track it down for yourself. Also, sometimes it's better as a book in retrospect than it is when you're reading it. By this I mean that I remember chunks of it really fondly now that I know that at the time were probably messily written.But it's all quibbling in the end. It's bloody entertaining and really a great way into a genre that's pretty new for me. It kind of plays like a more realistic (well, ish!) version of "The League of Extraordinary Gentlemen" but with the authors rather than their heroes clubbing together. Great fun.