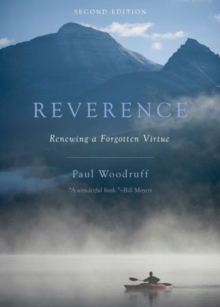 Reverence : Renewing a Forgotten Virtue
Paperback / softback
Description
Reverence is an ancient virtue that survives among us in half-forgotten patterns of civility and moments of inarticulate awe.
Reverence gives meaning to much that we do, yet the word has almost passed out of our vocabulary. Reverence, says philosopher and classicist Paul Woodruff, begins in an understanding of human limitations.
From this grows the capacity to be in awe of whatever we believe lies outside our control - God, truth, justice, nature, even death.
It is a quality of character that is especially important in leadership and in teaching, although it figures in virtually every human relationship.
It transcends religious boundaries and can be found outside religion altogether. Woodruff draws on thinking about this lost virtue in ancient Greek and Chinese traditions and applies lessons from these highly reverent cultures to today's world.
The book covers reverence in a variety of contexts - the arts, leadership, teaching, warfare, and the home - and shows how essential a quality it is to a well-functioning society. First published by Oxford University Press in 2001, this new edition of Reverence is revised and expanded.
It contains two new chapters, one on the sacred and one on compassion, and an epilogue focused on renewing reverence in our own lives.
Information
Format: Paperback / softback
Pages: 336 pages
Publisher: Oxford University Press Inc
Publication Date: 28/08/2014
ISBN: 9780199350803
Free Home Delivery
on all orders
Pick up orders
from local bookshops