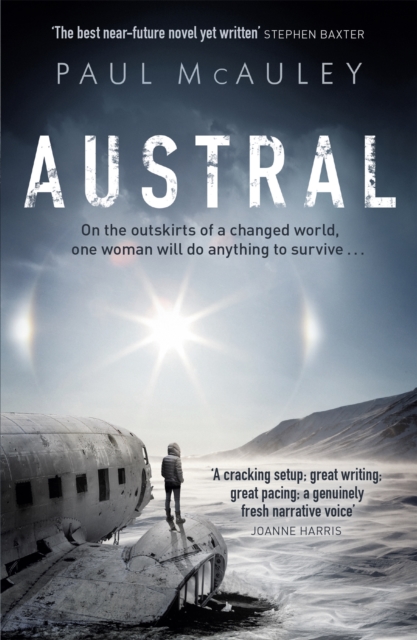 Austral : A gripping climate change thriller like no other
Paperback / softback
Description
A prescient and chilling climate change thriller set on the harsh landscape of Antarctica from one of the best science fiction writers of the present dayThe great geoengineering projects have failed. The world is still warming, sea levels are still rising, and the Antarctic Peninsula is home to Earth's newest nation, with life quickened by ecopoets spreading across valleys and fjords exposed by the retreat of the ice. Austral Morales Ferrado, a child of the last generation of ecopoets, is a husky: an edited person adapted to the unforgiving climate of the far south, feared and despised by most of its population.
She's been a convict, a corrections officer in a labour camp, and consort to a criminal, and now, out of desperation, she has committed the kidnapping of the century.
But before she can collect the ransom and make a new life elsewhere, she must find a place of safety amongst the peninsula's forests and icy plateaus, and evade a criminal gang that has its own plans for the teenage girl she's taken hostage. Blending the story of Austral's flight with the fractured history of her family and its role in the colonisation of Antarctica, Austral is a vivid portrayal of a treacherous new world created by climate change, and shaped by the betrayals and mistakes of the past.
Austral has been optioned for television by Circle of Confusion, the company who brought The Walking Dead and Locke and Key to the small screen.
They've recruited award-winning screenwriter Elise McCredie (Stateless) and director Erik Skjoldbjaerg (An Enemy of the People, Insomnia) to work on this exciting project. 'Paul McAuley's balanced grasp of science and literature, always a rare attribute in the writer of prose fiction, is combined with the equally rare ability to look at today's problems and know which are really problems, and what can be done about them.' William GibsonReaders are captivated by Austral:'Austral feels very timely, as it confronts questions about borders, climate change, geoengineering, biodiversity, racism, and xenophobia . . . An excellent climate change novel' Goodreads reviewer, 'Devastating, humane, extraordinarily harsh and beautiful' Goodreads reviewer, 'The world building is very nicely done, with a strong sense of place and landscape. And the tale is infused with thoughtful reflection on climate change, wilding and genetic modifications' Goodreads reviewer, 'A gorgeous, haunting novel-brimming with fractal stories-within-stories-about a fugitive on the run through the backcountry of the new nation established on a greening Antarctica' Goodreads reviewer, 'Genius . . . I love the intersection of gene editing and anarchy.
Imagining a world drastically changed by global warming but still crumpling under the dire weight of capitalism' Goodreads reviewer,
Information
Format:Paperback / softback
Pages:288 pages
Publisher:Orion Publishing Co
Publication Date:09/08/2018
Category:
ISBN:9781473217324
Information
Format:Paperback / softback
Pages:288 pages
Publisher:Orion Publishing Co
Publication Date:09/08/2018
Category:
ISBN:9781473217324