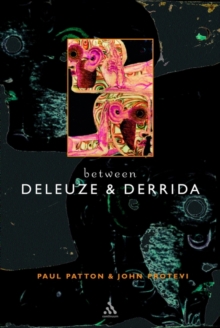 Between Deleuze and Derrida
Paperback / softback
Description
Gilles Deleuze and Jacques Derrida are the two leading philosophers of French post-structuralism.
Both theorists have been widely studied but very little has been done to examine the relation between them.
Between Deleuze and Derrida is the first book to explore and compares their work.
This is done via a number of key themes, including the philosophy of difference, language, memory, time, event, and love, as well as relating these themes to their respective approaches to Philosophy, Literature, Politics and Mathematics.
Contributors: Eric Alliez, Branka Arsic, Gregg Lambert, Leonard Lawlor, Alphonso Lingis, Tamsin Lorraine, Jeff Nealon, Paul Patton, Arkady Plotnitsky, John Protevi, Daniel W.
Smith
Information
Format: Paperback / softback
Pages: 220 pages, black & white illustrations
Publisher: Bloomsbury Publishing PLC
Publication Date: 03/04/2003
Category: Western philosophy, from c 1900 -
ISBN: 9780826459732