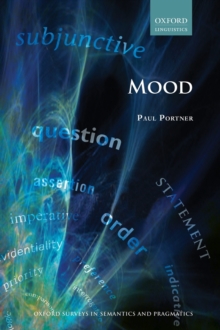 Description
This book presents the essential background for understanding semantic theories of mood.
Mood as a category is widely used in the description of languages and the formal analysis of their grammatical properties.
It typically refers to the features of a sentence-individual morphemes or grammatical patterns-that reflect how the sentence contributes to the modal meaning of a larger phrase, or that indicate the type of fundamental pragmatic function that it has inconversation.
In this volume, Paul Portner discusses the most significant semantic theories relating to the two main subtypes of mood: verbal mood, including the categories of indicative and subjunctive subordinate clauses, and sentence mood, encompassing declaratives, interrogatives, and imperatives.
Heevaluates those theories, compares them, and draws connections between seemingly disparate approaches, and he formalizes some of the literature's most important ideas in new ways in order to draw out their most significant insights.
Ultimately, this work shows that there are crucial connections between verbal mood and sentence mood which point the way towards a more general understanding of how mood works and its relation to other topics in linguistics; it also outlines the type of semantic andpragmatic theory which will make it possible to explain these relations.
The book will be a valuable resource for researchers and students from advanced undergraduate level upwards in the fields of semantics and pragmatics, philosophy, computer science, and psychology.
Information
Format: Hardback
Pages: 294 pages
Publisher: Oxford University Press
Publication Date: 18/01/2018
Category: Cognition & cognitive psychology
ISBN: 9780199547524
Free Home Delivery
on all orders
Pick up orders
from local bookshops
Also in the Oxford Surveys in Semantics and Pragmatics series | View all