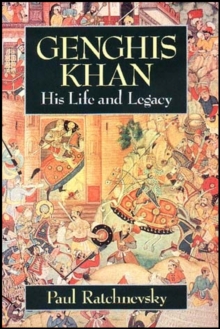 Genghis Khan : His Life and Legacy
Paperback / softback
Description
Genghis Khan was the founder of the Mongol Empire, the largest continuous land empire ever.
On his death in 1227, this extended from the Near East to the Yellow Sea, and was expanded by his successors to include what is now Iran, Iraq and southern Russia.
By 1206, Genghis Khan had completed the unification by conquest of all the tribes of Mongolia, and was acclaimed as universal Khan.
He then launched his assault on Northern China. Peking was captured in 1215, and the Chin were finally subjugated by Genghis' successors in 1234.
This is the definitive biography.
Information
Format: Paperback / softback
Pages: 336 pages
Publisher: John Wiley and Sons Ltd
Publication Date: 09/09/1993
ISBN: 9780631189497