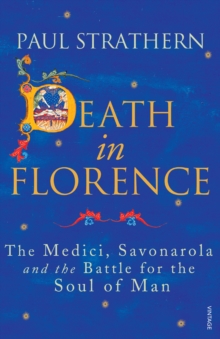 Death in Florence
Paperback
Description
Lorenzo de' Medici: The embodiment of Florence's most powerful family, a brutal man who ruled the city with an iron fist, whilst protecting it from the shifting mire of Italian politics.
Fra Girolamo Savonarola: An unprepossessing provincial monk whose sermons, filled with Old Testament fury, resonated with the disenfranchised population of the city.
The battle between these two men would be a fight to the death, a series of sensational events - including a mighty foreign invasion, trial by fire, the 'Bonfire of the Vanities', terrible executions and mysterious deaths - featuring a cast of the most important and charismatic Renaissance figures.
Information
Format: Paperback
Pages: 464 pages
Publisher: Vintage Publishing
Publication Date: 01/05/2012
Category: Renaissance art
ISBN: 9780099546443
Other Formats
EPUB from £12.99
Hardback from £18.45
Free Home Delivery
on all orders
Pick up orders
from local bookshops
Reviews
Showing 1 - 2 of 2 reviews.
Review by PennyAnne
16/06/2015
Brilliant from the first page to the last. An eminently readable, thoroughly informative and utterly captivating account of the story of Savonarola, the Medici and Florence.
Review by stillatim
16/06/2015
This is a reasonable airplane history, but the book's virtues come mostly from its subject matter: it's hard to lack narrative oomph when your subjects are the rise and fall of the Medici and the rise and fall of Savonarola. If the little friar wasn't so vilified in the English speaking world, I imagine there'd be two or three Hollywood extravaganzas about him already. <br/><br/>That said, there are some things an author can control, and Strathern does not control them. The prose is reasonably easy to read, but that doesn't mean it's 'crisp' or 'skillful' or has 'verve.' His editor should probably be fired, or perhaps just lose a paycheck for each time Strathern uses the word 'indicatively' before not explaining what, precisely, the following clauses are meant to indicate ("Hardly consoling words for the brother of a man under sentence of death, and indicatively offering no hope of reprieve." What?). Such ticks aside, Strathern favors cliche, bombast, the popular historian's tropes of 'x must have done y' and 'x certainly would have felt z'. He relishes (a very Strathernian word) unnecessary detail: it's never enough to know that someone walked from point a to point b; we must also know how the cobblestones 'must have' felt beneath his feet. <br/><br/>But the real problems come with Strathern's attitude towards history. He seems to have decided that this story is about a reactionary, foolish priest and a glorious if slightly sinister modernising family who loves Science and Art and all that good stuff. Even as he's writing that Savonarola is the most intelligent man in Florence, more or less a Republican and almost irritatingly moral, the book remains a story about The Clash of Modernity and the Medieval Mind. The story is interesting because many of the most important features of 'modern' life are prefigured in the friar rather than the Medici (democracy, equality, some legal restraints on the powerful). Sure, he was homophobic, but I imagine most of the Medici were as well. <br/><br/>Why does the book insist on this Clash Of Titans narrative? Because Strathern thinks history proceeds by dates. In roughly 1500, the Renaissance won, and thereafter everything was science, secular and sexy. Before that we're in the Dark. If the lines are that bright, the only way to tell the story is a clash of good and bad forces. Am I being hyperbolic? Consider what he says about the first English edition of Savonarola's 'Exposition,' which came out in 1543. As he points out, this was 12 years after England had separated from Rome. What does that indicate? It is "further [this is actually the first mention of this fact] indication, if such was needed [this phrase is never explained], of the regard in which this work came to be held by all Christians." The argument assumes that there were no 'Catholics' in England as of 1531; if there were, this publication would not 'indicate' that Savonarola's work was held in regard by Protestants. In other words, Strathern believes that, as of 1531, *no English stuck with Rome*... because 'England' now had its own church. Okay then. <br/><br/>This is one of many, many examples. If you know anything about history, you'll find this book fun and incredibly infuriating. If you know little about history (e.g., you believe that the middle ages were all about Keeping Science Down and the Renaissance was when people got things right again*), you won't be able to spot the falsehoods. <br/><br/>Not a bad way of killing five hours on a plane. A very bad way of learning. <br/><br/><br/>* One final example: Strathern appears to believe that alchemy was a peculiarly medieval pursuit that *died out* during the Renaissance. Historians of Science, readers of Ben Jonson, et al., you have been told.