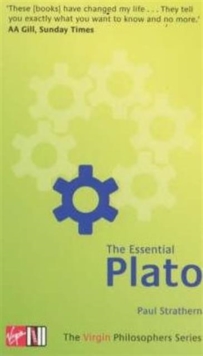 Virgin Philosophers : Plato
Paperback
Description
According to Plato, perhaps the greatest philosopher of all time, "philosophy begins in wonder".
His ideas grew against the turbulent background of Ancient Greece, yet his famous "Dialogues" rank amongst the world's most serene and profound literature.
The "Virgin Philosophers" series cover the lives and ideas of the major philosophers, attempting to calrify the mysteries of philosophy for the general reader.
Free Home Delivery
on all orders
Pick up orders
from local bookshops
Reviews
Showing 1 - 1 of 1 reviews.
Review by Odd_Bloke
16/06/2015
The Essential Plato is another in the Virgin Philosophers series by Paul Strathern. I have previously read and reviewed (earlier this evening) his "The Essential Confucius", so this review will naturally reference that in some respects.This book is short, only 56 pages including chronologies, recommended reading and a number of quotations, but Strathern manages to give a fairly complete history of Plato's life, showing how his life affected his philosophy while exploring, albeit in a fairly shallow manner, the core of his philosophy. In contrast to "The Essential Confucius", I know more about Plato's life and works, and so feel more able to say that this book gives a decent understanding on which to base further study of Plato.Having said this, my one complaint about the book is that despite leaving me interested in studying Plato further, it doesn't really make such further study all that easy. The only help it lends is the 'Recommended Reading' section, which contains five entries with no sort of information about how to read them or which should be read first. I suspect that I will find this problem to be endemic in the series and only failed to notice it in "The Essential Confucius" because I wasn't all that interested in reading anything further.This book also demonstrates a much reduced level of the issues I had with "The Essential Confucius", which largely boiled down to sacrificing readability in an attempt to be accessible and a seeming contempt for religion and faith. I wonder if this reduction is due to there being a great deal more to write about Plato than Confucius, meaning the author had no need to resort to such things. I suspect also that my increased interest could be traced to the increased content.Overall, a good book which I would recommend to anyone with a passing interest in philosophy.