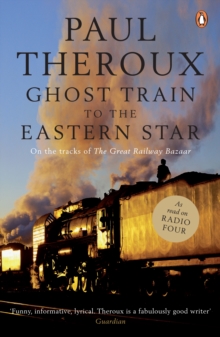 Ghost Train to the Eastern Star : On the tracks of 'The Great Railway Bazaar'
Paperback
Description
Paul Theroux's Ghost Train to the Eastern Star is a journey from London to Asia by train.
Thirty years ago Paul Theroux left London and travelled across Asia and back again by train.
His account of the journey - The Great Railway Bazaar - was a landmark book and made his name as the foremost travel writer of his generation.
Now Theroux makes the trip all over again. Through Eastern Europe, India and Asia to discover the changes that have swept the continents, and also to learn what an old man will make of a young man's journey.
Ghost Train to the Eastern Star is a brilliant chronicle of change and an exploration of how travel is 'the saddest of pleasures'.'A dazzler, giving us the highs and lows of his journey and tenderness and acerbic humour . . . fellow-travelling weirdoes, amateur taxi drivers, bar-girls and long-suffering locals are brought vividly to life' Spectator'Fans of Theroux are not likely to be disappointed.
Theroux has great descriptive skill . . . the world is slightly less unknown by virtue of reading the book' Sunday Telegraph'Relaxed, curious, confident, surprisingly tender.
Theroux's writing has an immediate, vivid and cursory quality that gives it a collective strength' Sunday Times'A brilliant eye, readable and vivid.
Theroux has still got it' Observer'Fascinating, a joy to read' TatlerPaul Theroux's books include Dark Star Safari, Ghost Train to the Eastern Star, Riding the Iron Rooster, The Great Railway Bazaar, The Elephanta Suite, A Dead Hand, The Tao of Travel and The Lower River.
The Mosquito Coast and Dr Slaughter have both been made into successful films.
Paul Theroux divides his time between Cape Cod and the Hawaiian islands.
Information
Format: Paperback
Pages: 496 pages
Publisher: Penguin Books Ltd
Publication Date: 28/05/2009
Category: Travel writing
ISBN: 9780141015729
Free Home Delivery
on all orders
Pick up orders
from local bookshops
Reviews
Showing 1 - 2 of 2 reviews.
Review by Opinionated
16/06/2015
I think I've read all of Paul Theroux's travel books and I have a weird dichotomous relationship with them. I tend to enjoy his descriptions of places I haven't been to, and tend to reject completly his depictions of those I know well. I can't forget his description, in "The Happy Isles of Oceania" of Melbourne as being known by the locals as "Smellburn". Really? Was someone pulling your leg or did you just make it up? So this a retrace of the steps of The Great Railway Bazaar and as such, bound to be a bit self indulgent. We learn a little of Mr Theroux's character, but not much. He seems cold, aloof and solitary, and although he tells us that he spent much of his 1973 trip worried about his marriage, honestly if you've just gone galivanting the railways of the world for a year leaving your wife with 2 young kids, is it surprising if she's a bit frosty on the phone? However, as I have never been to Georgia, Uzbekistan and Turkmenistan I enjoyed these chapters. As I have been to most of the places further east, I found it all a bit more problematicFirstly India. Yes, India has a lot of people living there. Yes, navigating cities like Chennai and Mumbai can be stressful. But you can hardly expect the population to stay at home so that Mr Theroux is not inconvenienced by them on the pavement. And to condemn India's economic progress, which has drawn many out of poverty (although of course many remain) seems churlish in the extreme. As does praising Sri Lanka for its lack of progress - for sure Sri Lanka is beautiful and peaceful, but most of the population would do a lot for one of those call centre jobs he condemns.If gets worse from here; there is an obsession with red light districts, prostitution and sex, that are glamorised in Thailand and to a certain extent in Vietnam, completely dominate his account of Tokyo (there is more to Tokyo than Love Hotels,Manga and Cosplay believe it or not, exotic though these may be) and Japan generally, and are drooled over in Singapore (but forget the section on child prostitution, which is almost certainly made up). Of course Mr Theroux never indulges - but he mentions not indulging so many times that there is a suspicion that he protesteth too muchAnd after Sri Lanka it's all just....trivial. He condemns places that have changed. He lionises those that haven't. He rants against governments that he doesn't like .....deservedly in the case of Burma, without enough explanation of what they are supposed to have done in the case of Cambodia, and entertainingly in the case of Singapore, which he really doesn't like (it seems that the Singapore government feel the same about him) and rants for pages about its defiencies, slating examples sometimes real, sometimes invented. But entertaining none the lessBut overall, I wish he'd ended his trip before getting to India.
Review by Eyejaybee
16/06/2015
Although he had previously published a few novels, Paul Theroux really made his name as a writer with his travel book, 'The Great Railway Bazaar', which documented his journey by train in the early 1970s from London to Paris and then by the Orient Express through Eastern Europe to Turkey whence he departed through Southern Asia all the way to Japan, before returning via the Trans-Siberian Express. Of course, there have always been travel books, though Theroux broke new ground by concentrating on descriptions of his journey rather than the destinations. He always took a supply of decent reading with him, and his books often prove as valuable for their literary insights as for the revelations about the countries and places he visits. 'The Great Railway Bazaar was immensely well received, and set a template that Theroux was to revisit several times throughout the rest of his career. To my mind his travel writing has always eclipsed his novels and short stories. I remember more than thirty years ago hearing my Wilfred Massiah, my marvellous English teacher at school, reading the chapter from 'The Old Patagonian Express' in which Theroux attended a football match between El Salvador and Nicaragua which he describes in a manner similar to Dante's descent into the inner rings of Hell - perhaps not without reason as the previous occasion on which those two countries had met at football had ended in them going to war.'The Ghost Train to the Eastern Star' recounts Theroux's experiences thirty-three years later when he tried to recreate the earlier journey through Europe and Asia. In the intervening period international politics had put their stamp on the globe, especially in the Middle East, which forced some diversions from the earlier route. His original journey had also been made before the fall of the Berlin Wall and the disintegration of the former USSR, and Theroux gives some interesting descriptions of life in 'the Stans', particularly Kyrgyrstan and Turkmenistan. Much, however, remains surprisingly unchanged over the intervening third of a century. Amritsar strikes him as very similar to his memories of being there for the first time, and he remains baffled, but impressed, at how India continues somehow to function as a democracy, rattling along on a bureaucracy that creaks and strains but somehow holds together.Theroux has always been known for his petulance, and is seldom slow to criticise the countries through which he travels. That trait is to the fore here, though I think it might more ready be termed simple petulance, or even plain rudeness. I am losing count of the number of times that I have read his phrase, 'The toilet was unspeakable.' It occurred two or three times in this book which seems to be par for the Theroux course.I felt at times that he was struggling with this book, and he occasionally laboured the point over his comparisons with the earlier journey. Still, it was an interesting book and I am glad I read it. I was left, though, as ever feeling that while I am glad I read his book, I am even more glad that I didn't have to meet the writer!