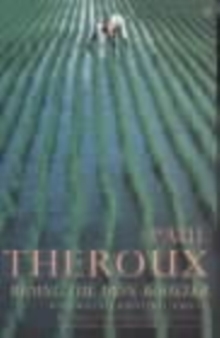 Riding the Iron Rooster : By Train Through China
Paperback
Description
Paul Theroux left Victoria Station on a rainy Saturday in April thinking that taking eight trains across Europe, Eastern Europe, the USSR and Mongolia would be the easy way to get to the Chinese border - the relaxing way, even.
He would read a little, take notes, eat regular meals and gaze contentedly out of windows.
The reality, of course, was very different.In fact, Theroux experienced a decidedly odd and unexpected trip to China that set the challenging tone for his epic year-long rail journey around that vast, inscrutable land - a journey which involved riding nearly every train in the country. `Wry, humorful and occasionally querulous ... as Theroux makes excruciatingly clear, travelling alone in the Middle Kingdom is not for the faint of heart or stomach' Time.
Information
Format: Paperback
Pages: 512 pages
Publisher: Penguin Books Ltd
Publication Date: 30/03/1989
Category: Travel writing
ISBN: 9780140112955
Free Home Delivery
on all orders
Pick up orders
from local bookshops
Reviews
Showing 1 - 2 of 2 reviews.
Review by Crewman_Number_6
16/06/2015
I loved this book. It is about the author\'s experiences as he rides the train from London to China. His descriptions of \"The Iron Rooster\" and the places in China which are off the beaten path are intriguing.
Review by jcbrunner
16/06/2015
Paul Theroux' account of his train journeys across and around China during the the late 1980s is both entertaining and enlightening. His fascination with and desire for travel by train lies in the forced prolonged intimacy with his fellow travelers. He is a consummate leech. While furiously guarding his privacy (in a Rumpelstilzian "Nobody knows that I am Paul Theroux"), he eyes, listens and pokes into other people's lives. This decidedly American Puritan game of voyeurism and revulsion is most marked in his reporting about the sex life of his fellow passengers. His "suffering" is almost always self-inflicted: He could easily have upgraded to semi- or private quarters at little cost. In reality, he wants to creep in on other people's relationships and lives. Perhaps the larger anonymity and higher sophistication of big city inhabitants is one of the reasons why Theroux prefers the backwood country.The two chapters about his miserable trip to waterless Tibet and freezing Harbin (in Northern China) are the highlights of this book, a testament to human endurance to live in harsh environment and also a reporter's grim determination to suffer for his story. The Roman soldiers guarding the Limes against Barbarian incursions had it easy compared to the poor Chinese protecting their Northern and Western borders against invaders. Reading Theroux, the numerous pleas of Chinese officials to return to the capital and civilization throughout history becomes easier to understand. No wonder too that, extracting industries apart, these regions hardly participate in the Chinese miracle. Theroux' account about Southern China is lacking both in depth and in sympathy. His main obsession is interviewing, even pestering, anybody about Mao and the Cultural Revolution. In can only hope that Theroux never travels to Israel to interrogate Holocaust survivors about their suffering. The Chinese stoicism and preservation of face certainly favors an obnoxious interviewer such as Theroux.Personally, I travel and endure a journey to reach and visit a destination. Theroux is of the opposite school. Having reached a destination, he is quickly bored and seeks to leave for the next leg of his journey. He hardly describes the sights and history of his destinations at all. His focus are the quirks, manners and lives of his fellow travelers. The longer he is staying the better he begins to understand them, thus a reader's progress is matched by an increase of enjoyment. Recommended.