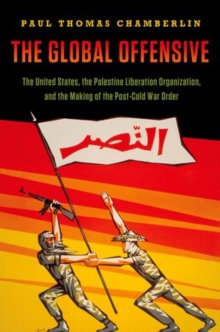 The Global Offensive : The United States, the Palestine Liberation Organization, and the Making of the Post-Cold War Order
Hardback
Description
In 1968, a ragtag group of Palestinian guerrillas burst onto the world stage as part of a global offensive that combined controversial armed operations, diplomacy, and revolutionary politics.
In the following years, the Palestine Liberation Organization (PLO) forced the question of Palestine to the forefront of the world's attention and cement its status as the sole legitimate representative of a nation of people striving for statehood.
While their spectacular actsof revolutionary violence - hijackings, guerrilla attacks, suicide operations - seized headlines and made the PLO the face of "international terrorism" in the 1970s, it would be the organization's diplomatic campaign that would propel it to prominence in the global arena.
By the middle years of thedecade, the PLO would stand beside Vietnamese, Cuban, Algerian, and South African guerrilla fighters at the vanguard of a new generation of revolutionaries in the Third World.
More than just a subplot in the Arab-Israeli conflict, the Palestinian struggle sat the juncture of a critical phase in the Cold War and the wave of revolutions that swept through the Third World in the 1960s.
Using Arabic sources and recently declassified U.S. documents, The Global Offensive returns the PLO's story to its international context.
As the PLO gained both prestige and infamy, leaders in both the United States and the Soviet Union hastened to come to terms with this new force inMiddle Eastern affairs.
Fearing the PLO's potential to revolutionize the Arab world and project armed violence across a global spectrum, American leaders faced the choice of establishing diplomatic relations with the organization or crafting a containment policy for a new generation of Arabrevolutionaries.
Their decisions-along with those of Palestinian, Arab, and Israeli leaders-would have dramatic implications into the twenty-first century and help to remake the art of revolution and the structure of global power in the late-Cold War world and beyond.
However, despite its sweeping victories in the international system, the Palestinian liberation struggle would not gain statehood in the twentieth century.
Information
Format: Hardback
Pages: 336 pages, 15 hts
Publisher: Oxford University Press Inc
Publication Date: 01/11/2012
Category: Middle Eastern history
ISBN: 9780199811397
Free Home Delivery
on all orders
Pick up orders
from local bookshops
Also in the Oxford Studies in International History series | View all