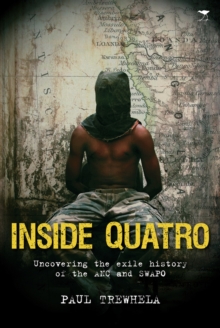 Inside Quatro : Uncovering the exile history of the ANC and SWAPO
Paperback / softback
Description
This title uncovers some of the exile history of the ANC and SWAPO that both organisations would prefer not to remember.
Here is a first-hand account of the ANC's Quatro prison camp and of the mutiny in Umkhonto we Sizwe (MK) in Angola in 1984; articles on the SWAPO 'spy drama' of the 1970s and 1980s; an analysis of a death in exile with implications relating to Jacob Zuma; and a study of the responses of both the ANC and SWAPO to these episodes of intolerance, repression and excess.
In all his essays, Trewelha analyses problems of the liberation struggles with a former insider's knowledge and a journalist's ability to ferret out the facts.
Information
Format: Paperback / softback
Pages: 256 pages
Publisher: Jacana Media (Pty) Ltd
Publication Date: 27/10/2009
Category: African history
ISBN: 9781770097766