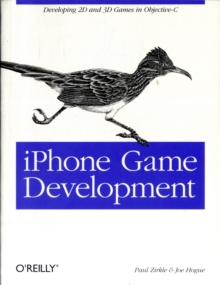 iPhone Game Development : Developing 2D and 3D Games in Objective-C
Paperback / softback
Description
If you want to create games for the iPhone, you'll find this book packed with guidelines on the basics of game development, the fundamentals of iPhone programming, special graphics and audio needs for games, tips on handling in-game physics, strategies for AppStore publication, and much more. "iPhone Game Development" details the process with lots of examples, and provides plug-in classes to compensate for the iPhone's lack of support for certain areas of game programming.
Throughout the book, the authors stress the importance of good performance and response time, and include numerous tips and alternative suggestions for maximizing performance in different types of games.
Topics include: Basics of Objective-C and iPhone programming with XCode; How to create a robust, scalable framework for a game; Considerations for adapting the iPhone interface to games; 2D and 3D graphics; Animation and integrating with a physics engine; Music and audio effects; Menus and controls; and, Publishing to the AppStore.
Information
Format: Paperback / softback
Pages: 255 pages
Publisher: O'Reilly Media, Inc, USA
Publication Date: 20/11/2009
ISBN: 9780596159856
Other Formats
EPUB from £17.76
PDF from £19.19
Also by Paul Zirkle