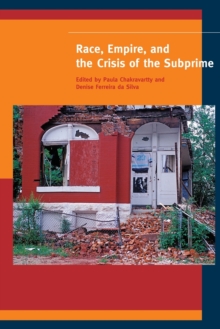 Race, Empire, and the Crisis of the Subprime
Paperback / softback
Description
Predatory lending of subprime mortgages targeting the most economically vulnerable minority communities helped trigger the current global financial crisis.
This special issue of the journal American Quarterly explores the ways in which "subprime" becomes a racial signifier in the current debate about the causes and fixes for a capitalism itself in crisis.
It signifies both the accumulated dispossession of racial exclusion in the twenty-first century gilded age in the United States and Global North more broadly, as well as the imperial ambitions of three decades of U.S.-led neoliberal rule over the Global South.
Essays are divided into sections: debt, discipline, and empire; the pathologies of debt; and security, space, and resistance in the post-racial urban setting.
Focusing on race and empire, that is, on racial and global subjugation, the contributors expose the ethical-political underpinnings of the current global financial crisis. Contributors include:Radhika BalakrishnanJordan T.
CampPaula ChakravarttyOfelia Ortiz CuevasSophie Ellen FungDaniel J.
HammelJames HeintzBosco HoZachary LiebowitzTayyab MahmudJohn D.
MarquezPierson NettlingC. S. PonderSarita Echavez SeeShawn ShimpachDenise Ferreira da SilvaCatherine R.
SquiresMichael J. WattsElvin Wyly
Information
Format: Paperback / softback
Pages: 344 pages, 19 Halftones, black and white
Publisher: Johns Hopkins University Press
Publication Date: 01/04/2013
Category: Social discrimination
ISBN: 9781421410012
Free Home Delivery
on all orders
Pick up orders
from local bookshops