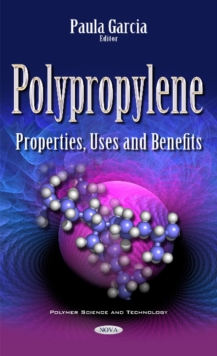 Polypropylene : Properties, Uses & Benefits
Hardback
Description
Polypropylene (PP) is a typical polymorphic polymer with -form, ss-form, -form, and mesomorphic smectic form modifications, and crystallises into diverse morphologies.
In this book, Chapter One comprehensively reviews the kinds of self-assembly ss-nucleating agents and the manipulation strategies in the practical processing to control the crystal structure and prepare high-performance PP products.
Chapter Two discusses the molecular structure at the cross-linking point of stereoregular isotactic polypropylene (iPP) and syndiotactic polypropylene (sPP) gels in comparison with the crystal formed in the solid state such as film.
Chapter Three investigates the thermal insulation performance of polypropylene as thermal insulator for a solar air collector in comparison with coconut fibre.
Chapter Four reviews the mechanical properties, crystallisation and degradation of polypropylene due to nucleating agents, fillers and additives.
Chapter Five examines polypropylene biodegradation. Chapter Six addresses the potential utilisation of different lignocellulosic biomasses for the development of green materials based on polypropylene, with the objective to elucidate the possibility of using the bio based materials for various industrial applications.
Information
Format: Hardback
Pages: 160 pages
Publisher: Nova Science Publishers Inc
Publication Date: 01/12/2016
Category: Polymer chemistry
ISBN: 9781536100082
Free Home Delivery
on all orders
Pick up orders
from local bookshops