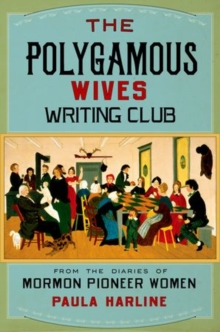 The Polygamous Wives Writing Club : From the Diaries of Mormon Pioneer Women
Hardback
Description
The Church of Latter-day Saints renounced the practice of plural marriage in 1890.
In the mid to late nineteenth century, howeverthe heyday of Mormon polygamyan average of three out of every ten Mormon women became polygamous wives.
Paula Kelly Harline delves deep into the diaries and autobiographies of twenty-nine such women, opening a rare window into the lives they led and revealing their views of and experiences with polygamy, including their well-founded beliefthat their domestic contributions would help to build a foundation for generations of future Mormons.
Polygamous wives were participants in a controversial and very public religious practice that violated most social and religious rules of a monogamous America.
Harline considers the questions: Were these women content with their sacrifice?
Did the benefits of polygamous marriage for the Mormons outweigh the human toll it required and the embarrassment it continues to bring?
Polygamous wives faced daunting challenges not only imposed by the wider society but within the home, yet those whosewritings Harline explores give voice to far more than just unhappiness and discontent.
Following two or three women simultaneously and integrating their own words within a lively narrative, Harline focuses on the detail of their emotional and domestic lives over time, painting a vivid and sometimes disturbing picture of an all but vanished and still controversial way of life.
Information
Format: Hardback
Pages: 256 pages, 55 illustrations
Publisher: Oxford University Press Inc
Publication Date: 14/08/2014
ISBN: 9780199346509
Free Home Delivery
on all orders
Pick up orders
from local bookshops