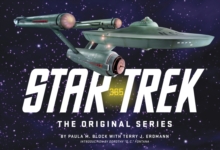 "Star Trek" : The Original Series 365
Hardback
Description
Star Trek 365 is the definitive, comprehensive and authorised guide to Star Trek: The Original Series, Gene Roddenberry's landmark, groundbreaking television programme that first aired from 1966-69 and went on to become an international phenomenon.
A cornerstone of popular and sci-fi culture for more than four decades, the show first catapulted William Shatner and Leonard Nimoy to fame and has, through a long series of feature-film and television spinoffs, led to the creation of a uniquely rich and detailed fictional universe.
A visual celebration of the original voyages of the starship Enterprise, Star Trek 365 covers each episode and season in unprecedented detail, combining in-depth synopses, behind-the-scenes histories, and interviews with writers, cast, crew and fans with critical commentary on how the show's themes resonated when they first aired and how they continue to be relevant today.
The book also looks at the original days of Star Trek fandom and the show's enduring cultural legacy, from the launching of NASA's Space Shuttle Enterprise in 1978 to the Smithsonian's exhibition of rare Star Trek material in 1992 to the present day. In addition to its wealth of never-before-seen images and newly commissioned photography of models, props, costumes, collectibles and ephemera, Star Trek 365 uses unprecedented access to the CBS archives to reproduce a treasure trove of still images - newly retouched and remastered - taken directly from the series' original 16mm film slides.
Written by longtime CBS insider Paula M. Block, Star Trek 365 boldly goes where no other Star Trek book has gone before, combining rare and iconic imagery with a complete reference guide to the original show's seventy-nine episodes - a perfect gift for Star Trek fans of all ages.
Information
Format: Hardback
Pages: 744 pages, 365 full-color illustrations
Publisher: Abrams
Publication Date: 22/07/2010
Category: Television
ISBN: 9780810991729
Free Home Delivery
on all orders
Pick up orders
from local bookshops
Reviews
Showing 1 - 2 of 2 reviews.
Review by texascheeseman
16/06/2015
Star Trek: The Original Series: 365By Paula M. Block and Terry J. ErdmannPublisher: AbramsPublished In: New York, New York, USADate: 2010Pgs: 365Summary:A series of behind-the-scenes stories, production stories, art stories related to each episode of the original series, it's characters, the actors behind them, the creators, writers, directors, places, both real and imagined, of Star Trek.Genre:Science Fiction; Movies and Television; FanMain Character: N/AFavorite Character: My favorite character has always been Dr. Leonard McCoy. And when you step outside the triumvirate and start looking at co-stars and guest stars and what not, I fall to praising Ricardo Montalbon's Khan Noonian Singh.Least Favorite Character: N/A...maybe the executives who drove it from the air too early with cost constraints that forced it down paths in its final season that were not conducive to its being renewed.Favorite Scene: Too many to enumerate.Plot Holes/Out of Character: N/ALast Page Sound:So awesome.Author Assessment: Would depend on subject matter.Disposition of Book: Giving it to Jerry to read.Why isn't there a screenplay?:N/A.
Review by Murphy-Jacobs
16/06/2015
This book is aimed directly at the original series Star Trek Fan, the one who can spend 10 minutes staring at a close up color photo of a phaser or a tricorder, who finds delight in reading little details about well known episodes, and who can appreciate the beauty and information in this brick of a book. The pictures recall well the special wonder and excitement that grew with this unique, now practically ancestral sci-fi tv show.<br/><br/>It's less of a straight through read and more of an 'open at random' book, which suits me fine. It also includes pictures and information about Star Trek's early years of "Afterlife", when conventions and novels and concordiums began to appear. While a perfectly good entry way for someone who (somehow) knows little about the series, it's really aimed at those who spend long hours discussing the real nature of Spock's emotional life and who possibly have owned one pair of fake Vulcan ears.