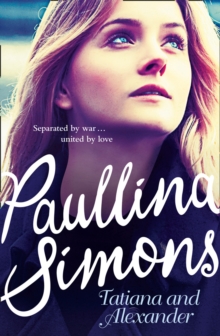 Tatiana and Alexander
Paperback
Description
A powerful story of grief and hope, a passionate and epic love story from the Russian-born author of the internationally bestselling novels TULLY and ROAD TO PARADISE.
The world at war ...two people in love. Tatiana is eighteen years old and pregnant when she miraculously escapes war-torn Leningrad to the West, believing herself to be a widow.
Her husband, Major Alexander Belov, a decorated hero of the Soviet Union, has been arrested by Stalin's infamous secret police and is awaiting imminent death as a traitor and a spy.
Tatiana begins her new life in America. In wartime New York City she finds work, friends and a life beyond her dreams.
However, her grief is inescapable and she keeps hearing Alexander calling out to her.
Meanwhile, Alexander faces the greatest danger he's ever known.
An American trapped in Russia since adolescence, he has been serving in the Red Army and posing as a Soviet citizen to protect himself.
For him, Russia's war is not over, and both victory and defeat will mean certain death.
As the Second World War moves into its spectacular close, Tatiana and Alexander are surrounded by the ghosts of their past and each other. They must struggle against destiny and despair as they find themselves in the fight of their lives.
A master of the historical epic, Paullina Simons takes us on a journey across continents, time, and the entire breadth of human emotion, to create a heartrendingly beautiful love story that will live on long after the final page is turned.
Information
Format: Paperback
Pages: 640 pages
Publisher: HarperCollins Publishers
Publication Date: 02/02/2004
ISBN: 9780007118892
Free Home Delivery
on all orders
Pick up orders
from local bookshops
Reviews
Showing 1 - 4 of 4 reviews.
Review by ZEEK319
16/06/2015
Finishing this the second book in The Bronze Horseman Trilogy by Paulina Simons- is no small feat. A 500+ page tome- it's no light read. (By the way, here in the states, the second novel in the trilogy is titled Tatiana and Alexander- but most elsewhere in the world, it's Bridge to Holy Cross.) But finish I did and loved every minute of it!If you've never read The Bronze Horseman and its sequels- it's a sweeping epic that harkens back to the days of the mini-series: think The Winds of War and The Thornbirds. The first in the series, The Bronze Horseman, is set in Leningrad during WW2. The book literally takes you through the gamut of emotions before leaving you with the two main characters, Tatiana and Alexander, separated- one facing torture and uncertain death at the hands of the precursor to the KGB and the other suffering TB while interned at the hospital of Ellis Island.Tatiana and Alexander begins there, but it also takes you back and tells you Alexander's story- something which we didn't get as much of in TBH. Alexander has all the qualities I LOVE in a hero. Noble, strong, and totally in love with his woman. So much so he resists temptations of the nubile flesh thrown at him while separated from Tatiana, and it's his love for her, and perhaps a touch of fate, that keeps him alive. They simply couldn't break him. He was brought low, yet he stayed strong. This mix of humility and strength never fails to hook me. I have to say, he's got to be one of my all time favorite heroes- and I can't believe I forgot that till now!Tatiana is just as perfect. She makes her way to a new land, thinking her husband and the love of her life lost to her and then gave birth alone to his son. Yet, when she discovers a scrap of hope that he IS alive, she is willing to give up all to find him. (These books are SO romantic.)The second book brought it all back and I think it's just as good as the first- though in a different way. It's not about these two together like in TBH, it's about who they are apart AND together. Excellent read, once again.
Review by Misfit
16/06/2015
A good, but flawed follow up to The Bronze Horseman. ****If you haven't read The Bronze Horseman you might not want to read further**** Published in the UK as Bridge to Holy Cross, this book takes up Tatiana and Alexander's story where the first one left off. Alexander is presumed dead in Russia while a pregnant Tatiana was able to escape to sanctuary United States as WWII rages around them. As Tatiana builds herself a new life as a nurse and raises her son, the not-so-dead Alexander finds himself at the very front of the lines commanding a unit of convicted prisoners. The author also goes into background detail of Alexander's parents and how they came to live in Russia, their lives there as communists and their subsequent imprisonment and death. Tatiana eventually comes across a couple of clues left by Alexander and sets her on a dangerous path through enemy territory that.... More than that, I am not willing to tell as I'd be giving away the whole plot, I am not into spoilers. Both our lovers are heartbreaking as they pine for one another and their lost love, and Simons does keep you sitting on the edge of your seat until the very end wondering if you're going to get a HEA after all (story continued in book #3, The Summer Garden). The good - the scenes at the front lines and the prison camps were chilling - most especially when Alexander's troops came across one of Hitler's concentration camps and realized what had really happened there. The not so good - for some unknown reason Simons felt the need to flashback and rehash Tatiana and Alexander's entire relationship, albeit this time from Alexander's POV (Editor, wherefore art thou?). While one does gain some additional background aspect seeing their romance from Alexander's eyes, it really does not add to the story line at all and one could easily skim quickly past those 100 or so pages - especially if you picked up book two right after finishing the first. Despite its flaws, it was a very enjoyable read and as in the first I had a hard time putting it down. A shaky (almost gave it three) 4/5 stars.
Review by Ayling
16/06/2015
This is the sequel to The Bronze Horseman and more or less starts where that one left off.Tatianna is in the United States with her newborn baby and she just can't shake the fact that her husband may be dead, or probably is anyway. Everything is big, bright and beautiful in America apart from the fact Alex is no longer here... he was last seen in Russia and the last thing she heard of him was that he'd been blown up.And so here we go again. Tatianna and Alexander again...Personally I think The Bronze Horseman stands perfectly well on its own and if you don't read this no big loss. The story is ok, it is nothing special and a little drawn out. But it continues their story and is fairly enjoyable.But here is a word of warning to you.Do not, under any circumstances read the third book in the series. The Summer Garden. It's God Awful. And Simons, still unable to let go of this story, even wrote a cookbook...Talk about flogging a dead horse. Well, I guess some people did like it as the GR rating is 4.09 but frankly - I didn't even finish it maybe the only people who did finish it liked it because it's a long book, you'd have to like it to get through the however many pages of dribble she puts you through.I've since really gone off Simmons as an author. Far too emotionally manipulative, without having the depth of characters like T&A and empty. She's lost it. Just read Tully and The Bronze Horseman by this author, maybe her earlier ones. But anything beyond this book, is absolute, sheer and utter bollocks to put it lightly.
Review by EmmaBTate
16/06/2015
Sequel to Bronze Horseman, carrying on as left off in first novel. Absorbing, sad, happy, excellent read!