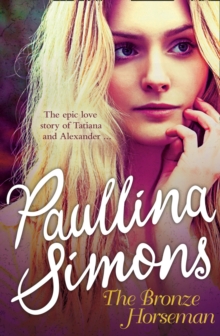 The Bronze Horseman
Paperback
Description
A magnificent epic of love, war and Russia from the international bestselling author of TULLY and ROAD TO PARADISELeningrad 1941: the white nights of summer illuminate a city of fallen grandeur whose palaces and avenues speak of a different age, when Leningrad was known as St Petersburg.Two sisters, Tatiana and Dasha, share the same bed, living in one room with their brother and parents.The routine of their hard impoverished life is shattered on 22 June 1941 when Hitler invades Russia.
For the Metanov family, for Leningrad and particularly for Tatiana, life will never be the same again.
On that fateful day, Tatiana meets a brash young man named Alexander.The family suffers as Hitler's army advances on Leningrad, and the Russian winter closes in.
With bombs falling and the city under siege, Tatiana and Alexander are drawn inexorably to each other, but theirs is a love that could tear Tatiana's family apart, and at its heart lies a secret that could mean death to anyone who hears it.Confronted on the one hand by Hitler's vast war machine, and on the other by a Soviet system determined to crush the human spirit, Tatiana and Alexander are pitted against the very tide of history, at a turning point in the century that made the modern world.
Information
Format: Paperback
Pages: 656 pages
Publisher: HarperCollins Publishers
Publication Date: 28/03/2001
ISBN: 9780006513223
Free Home Delivery
on all orders
Pick up orders
from local bookshops
Reviews
Showing 1 - 5 of 9 reviews.
Previous | Next
Review by AngieB901
16/06/2015
Being an English major, I've had to read a lot of books the past few years and this is truly one of the best books I've ever read in my life. It has absolutely everything you could possibly want in a book. Amazing, very dynamic characters that will make you laugh and cry. The writing is outstanding. Incredible drama and suspense. And the most exquisite love story you will probably ever read. The couldn't disagree with the other review more- this is book one of a trilogy, so the "ending" isn't really the ending at all. I can't praise this book highly enough.
Review by den_80_99
16/06/2015
I loved this story, it kept you glued to the pages the whole way through. I really felt for the characters and felt the drop back of the war was very moving but not taking over the main story. It was one you do not want to finish but cant help rushing to get to the end to see what the out come will be.
Review by NadineCrawf
16/06/2015
A friend lent me this book and I had no preconceived ideas about it. I had previously read one Paullina Simons which I thought was pretty silly but tried this one anyway. I was captivated from the start. Its the sort of book that stays with you when you are not reading it and makes you ignore your family when you are. The historical aspect of the book was done in such a way as to really emphasize the human aspect of what went on, while not making the story mundane. It was beautifully written. Imagine my surprise when I found out there was more.....
Review by EmmaBTate
16/06/2015
Epic sweeping historical romance, couldn't put it down!
Review by TheInvernessie
16/06/2015


I give this two stars because there were only a few pages I liked. It was dreary, sad and Typical.
Tatiana reminds me almost EXACTLY of Claire Beauchamp from the outlander series. I didn't enjoy the bronze horseman, and won't be reading the sequels.