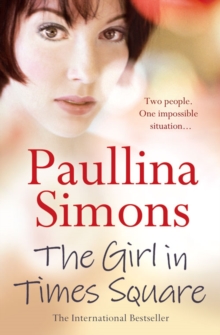 The Girl in Times Square
Paperback
Description
A stunning and powerful contemporary love story from one of the best storytellers this century.
What if everything you believed about your life was a lie?Meet Lily Quinn.
She is broke, struggling to finish college, pay her rent, find love.
Adrift in bustling New York City, the most interesting things in Lily's life happen to the people around her.
But Lily loves her aimless life ... until her best friend and roommate Amy disappears. That's when Spencer Patrick O'Malley, a cynical, past his prime NYPD detective with demons of his own, enters Lily's world. And a sudden financial windfall which should bring Lily joy instead becomes an ominous portent of the dark forces gathering around her.But fate isn't finished with Lily.She finds herself fighting for her life as Spencer's search for the missing Amy intensifies, leading Lily to question everything she knew about her friend and family.
Startling revelations about the people she loves force her to confront truths that will leave her changed forever.From a master storyteller comes a new heart-wrenching, magnificent and unputdownable novel.This is the odyssey of two young women, Lily and Amy, roommates and friends on the verge of the rest of their lives.
Information
Format: Paperback
Pages: 608 pages
Publisher: HarperCollins Publishers
Publication Date: 25/05/2005
ISBN: 9780007118939
Free Home Delivery
on all orders
Pick up orders
from local bookshops
Reviews
Showing 1 - 3 of 3 reviews.
Review by Safia
16/06/2015
Compared to her other books, this is flat and ill conceived. The main character's best friend disappears and she falls in love with the officer investigating the case. It is then taken over by the fact that she has cancer and her missing friend is forgotten between the sad story of a girl with cancer you can't help but feel sorry for - it's a bit of a cop out. If she didn't have cancer, you wouldn't care about the character at all. Simons is capable of much better.
Review by cherpy
16/06/2015
I couldnt put this book down!
Review by Ayling
16/06/2015
Hmmmm.You create a character. You murder her best friend. You bring in a sexy police detective.You want people to have sympathy for your protagonist. So you give her cancer - Leukaemia.That's what it's about. Lily's best friend is murdered, a storyline which is left in the background whilst she falls for the copper and sells her artwork. Her family is selfish. Her mother's a cow.There isn't anything remotely interesting. The cancer storyline is a cop out - you can't fail but to feel sympathy towards her. Give her a super crap family and bingo, you're done... Oh, and on top of all that she's also won the lottery, but doesn't claim the money for some reason despite being a skint art student. Nauseating, but so much better then writing essays. It's a brain relaxant/laxative, good for when you're a bit stressed out and you just want to get through a book quickly without putting that much thought into it. But it isn't a real story. I was very disappointed in this author. Had I not been in middle of deadline time at university I'd have chucked it aside, but at the time I just needed some brain drain book to entertain my frazzled nerves.However, the only entertainment that can be gained from this book is realizing how amazingly bad it actually is!Simons has only come out with two I like - The Bronze Horseman and Tully - both with their flaws of course, but a lot better and well thought out then this drivelling tripe-filled book.