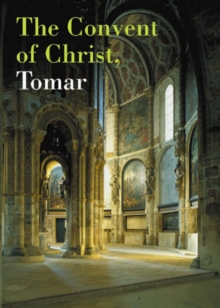 The Convent of Christ, Tomar
Paperback
Description
The Convent of Christ developed as an extension of the Templars Castle whose construction began in 1160, giving strategic support to the Christian advance to the South as well as being the headquarters of the Templars in Portugal. This fortress led to the re-population of the surrounding region and the appearance of the medieval town of Tomar.
The Templar Order was dissolved in 1312 but their property and, in part, their vocation were transferred, in Portugal, to the Order of the Christ, created in 1319. It is thanks to the Order of Christ that the Portuguese nation opened itself to the maritime discoveries carried out in the fifteenth century.
After the dissolution of the religious orders, in 1834, the Convent of Christ was used in a variety of ways, from being the residence of the Count of Tomar to the Seminary for Overseas Missions, later being classified as a National Momument of the Portuguese State in 1907 and later as World Heritage by UNESCO.
Time and the Portuguese history left in the Convents architecture evidence of the passing ages and the different artistic tendencies. The Convent of Christ displays in its architectural ensemble art testimonies of the Romanesque, Templar, Gothic and Manueline style. This stunning book, the next in Scalas series exploring UNESCO World Heritage Sites in Portugal, and beautifully written by Paulo Pereira, author of several of the books in this series, tells the architectural and historical story of this fascinating building.
Information
Format: Paperback
Pages: 128 pages, 130 col, 1 b/w
Publisher: Antique Collectors' Club Ltd
Publication Date: 01/07/2009
Category: Religious buildings
ISBN: 9781857593839
Free Home Delivery
on all orders
Pick up orders
from local bookshops
Also by Paulo Pereira