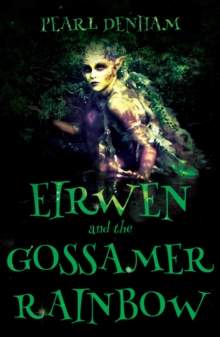 Eirwen and the Gossamer Rainbow
Paperback / softback
Description
"As the light caught its tunic making it shine and shimmer like butterfly wings it made her shudder.
In spite of the beauty of the clothes it was ugly. The back of its bulging head and long fingered hands were the same sickly non-shade.
No fur, no feathers and no colour. He was Casuista."This is an unearthly tale about an unusual girl called Eirwen.
She is 50cm tall with green skin, blue hair and golden eyes.
There are many questions to be answered: she was born on another planet, so why is she living on Earth and being protected by her two brothers, Gwyn and Tomos - and why are those brothers snow geese?
The monster of a creature, Casuista, is also from another planet: what does he want on Earth and why are animals disappearing or losing their colours?
Their protectors, the Learned Ravens, are unable to help so can Eirwen?
When Gwyn is also snatched Eirwen begins her dangerous journey to find and rescue the prisoners in the process discovering new inner strengths and passions.
Eirwen and the Gossamer Rainbow is wonderfully magical with vivid descriptions and a fascinating antagonist.
It is a story that can be enjoyed by all age groups. (Victoria Milne, freelance editor)p.p1 {margin: 0.0px 0.0px 0.0px 0.0px; font: 12.0px 'Helvetica Neue'; color: #454545}
Information
Format: Paperback / softback
Pages: 128 pages
Publisher: Troubador Publishing
Publication Date: 15/02/2018
Category: Fantasy
ISBN: 9781788037877
Free Home Delivery
on all orders
Pick up orders
from local bookshops