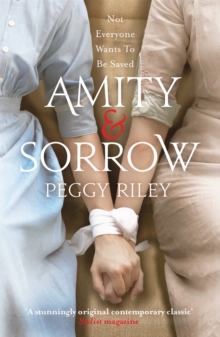 Description
AMITY & SORROW is a story about God, sex, and farming. It's THE LOVELY BONES meets WITNESS: an unforgettable journey into the horrors a true believer can inflict upon his family, and what it is like to live when the end of the world doesn't come.
In the wake of a suspicious fire, Amaranth gathers her children and flees from the cult where her children were born and raised.
Now she is on the run with no one but her barely-teenage daughters, Amity and Sorrow, neither of whom have ever seen the outside world, to help her.
After four days of driving without sleep, Amaranth crashes the car, leaving the family stranded at a gas station, unsure of what to do next.
Rescue comes in the unlikely form of a downtrodden farmer, a man who offers sanctuary when the women need it most.
AMITY & SORROW is the story of these remarkable women, their lives before the night they fled, and their heartbreaking, hopeful future.
Over the course of a season Amaranth will test the limits of her faith, and her daughters will test the limits of her patience. While Amity blossoms in this new world, free from her father's forbidding rules and ecstatic worship, Sorrow will move heaven and earth trying to get back home...And, meanwhile, the outside world hasn't forgotten about the fire on the compound.
Information
Format: Paperback
Pages: 352 pages
Publisher: Headline Publishing Group
Publication Date: 29/08/2013
ISBN: 9780755394388
Other Formats
EPUB from £4.99
Hardback from £11.79
Free Home Delivery
on all orders
Pick up orders
from local bookshops
Reviews
Showing 1 - 1 of 1 reviews.
Review by DubaiReader
16/06/2015
An excellent book club choice.This was an interesting read because the author managed to evoke a kind of sureal atmosphere, not in the way of fantasy, but effectively depicting the strangeness of a world not previously experienced. Amity and Sorrow are teenage sisters who have been raised in a religious commune and know nothing of the world outside, they cannot read and have lived all their lives in a polygamous cult with strict rules.When a suspicious fire drives their mother to escape from the commune with her two daughters, the sisters find themselves in an alien world. After four days of driving, Amaranth, their mother, crashes the car into a tree and they are all stranded in an isolated farm, with a brusque farmer and his elderly dad.The book follows their reactions to their new surroundings. Each of them behaves differently, but they all feel a strong pull to the 'family' that they have left.Flashbacks provide the reader with an insight into life in the cult, where one husband has taken fifty wives. The children run wild, with many mothers. There are various rituals, such as winding their chests with cloth, and spinning, which supposedly brings the women closer to each other. But there are darker goings on behind the surface.A fascinating read, with a really weird feel as the girls and their mother adjust. Not quite five stars though because I found it a bit confusing at times. This is a book that would make an excellent book group read, as there are some parts that are left in the air and I'd really like to know what others thought.....