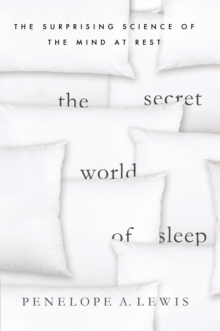 The Secret World of Sleep : The Surprising Science of the Mind at Rest
Hardback
Description
In recent years neuroscientists have uncovered the countless ways our brain trips us up in day-to-day life, from its propensity toward irrational thought to how our intuitions deceive us.
The latest research on sleep, however, points in the opposite direction.
Where old wives tales have long advised to "sleep on a problem," today scientists are discovering the truth behind these folk sayings,and how the busy brain radically improves our minds through sleep and dreams.
In The Secret World of Sleep, neuroscientist Penny Lewisexplores the latest research intothe nighttime brain to understand the real benefits of sleep.
She shows how, while our body rests, the brain practices tasks it learned during the day, replays traumatic events to mollify them, and forges connections between distant concepts.
By understanding the roles that the nocturnal brain plays in our waking life, we can improve the relationship between the two, and even boost creativity and become smarter.
This is a fascinating exploration of one of the most surprising corners of neuroscience that shows how science may be able to harness the power of sleep to improve learning, health, and more.
Information
Format: Hardback
Pages: 208 pages, Illustrations
Publisher: Palgrave Macmillan
Publication Date: 27/08/2013
Category: Cognition & cognitive psychology
ISBN: 9780230107595
Free Home Delivery
on all orders
Pick up orders
from local bookshops
Reviews
Showing 1 - 5 of 11 reviews.
Previous | Next
Review by JanesList
16/06/2015
I think I was looking for something more aimed at the general public. This book may be good, but I just couldn't get into it because it kept getting technical. I think I would be interested in what is being discussed - what our minds do when we are asleep, how that plays out with disorders, and how it affects memory, processing, etc - but I just can't finish the book. Oddly enough, with what I've just said, I was also annoyed that each chapter ended with a paragraph explaining what had just been said in the chapter. The illustrations were a bit odd, although my wife liked the one I showed her that had body parts overlaying parts of the brain.
Review by LorettaR
16/06/2015
I won this ARC through a Goodreads giveaway. Although a short book, it contains quite a bit of information about what happens to the brain and the body during sleep. The science is explained in such a way that most lay people would understand. I thought it was well researched and personally learned a lot from this book. It has assisted in reminding me to make sleep a priority, which I am guilty of not doing on many occasions. Very happy to have read this interesting and informative book.
Review by passion4reading
16/06/2015
The author, Penelope Lewis, is the Director of the Sleep and Memory Laboratory at the University of Manchester, and here gives a fascinating insight into how our brains continue working while we get some well-deserved rest. I as a former nurse found the anatomy and neurophysiology of the brain very interesting, but to someone without a science or medical background this could become boring, even though she explains the facts in a way that can be fairly easily understood and tries to support the terminology with common real-life analogies. We learn how sleep deprivation can be compared to the effects of alcohol on the brain, and how it affects creativity, lateral thinking, mood and learning. My problem with this book is that the author focuses heavily (almost to the exclusion of everything else) on the consolidation of memories during sleep (not surprisingly, given her job title), and even then some of the results of studies conducted by sleep scientists appear to contradict other results in the same field. As someone who has struggled with sleep issues for more than a decade, I was hoping that there might be some answers in here to explain what's going on in my head at night (or during the day, when I'm desperate for a nap). Only the very last chapter touches on things people with sleep problems could try to achieve a better night's rest, from avoidance of certain foods and caffeine in the evenings or the ambience of the bedroom, to things like timed air fresheners, blue light sources or wearing orange-tinted goggles for a few hours before going to sleep; but then it's probably fair to say that most of the serious insomniacs among us will have tried a good deal of them already, so there's nothing new to be learned in this respect. For a book entitled 'The Secret World of Sleep - The Surprising Science of the Mind at Rest' I was expecting something a little bit more all-encompassing, including a more thorough exploration of sleep disorders; this isn't the author's fault, but - I presume - the publisher's by giving a very specific book a more generic (and hence misleading) title.(This review was originally written as part of Amazon's Vine programme.)
Review by snash
16/06/2015
This short book presents the what's known so far about sleep, its biology, theories of its purpose, and how to promote it in terms understandable by the layman. It is rather narrowly biological without stepping into theories of consciousness, or philosophy. The various memory studies with rats and humans did reveal some interesting information.
I was looking forward to reading this book but found it to be a frustrating and ultimately disappointing read. I just couldn't figure out author Stephanie Lewis' purpose in writing it. Too technical for a lay audience and not technical enough for a scholarly work, it reads like an introductory textbook on cognitive science---complete with chapter summaries---for students. And while there are a few interesting facts to be found, you have to slog through an awful lot of jargon-laden prose; needless charts, graphs and diagrams; and more detail than you would ever want or need to know about laboratory experiments and brain topography to get there.
Also in the Macmillan Science series | View all