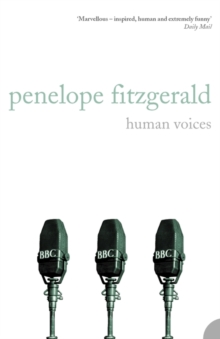 Description
From the Booker Prizewinning author of `Offshore' and `The Blue Flower'; a funny, touching, authentic story of life at Broadcasting House during the Blitz.The human voices of Penelope Fitzgerald's novel are those of the BBC in the first years of the World War II, the time when the Concert Hall was turned into a dormitory for both sexes, the whole building became a target for enemy bombers, and in the BBC - as elsewhere - some had to fail and some had to die, but where the Nine O'Clock News was always delivered, in impeccable accents, to the waiting nation.
Information
Format: Paperback
Pages: 208 pages
Publisher: HarperCollins Publishers
Publication Date: 30/11/1988
ISBN: 9780006542544
Other Formats
Hardback from £10.19
EPUB from £5.49
Free Home Delivery
on all orders
Pick up orders
from local bookshops
Reviews
Showing 1 - 4 of 4 reviews.
Review by hansel714
16/06/2015
Human Voices tells a story of the going-ons in BBC during World War II. The war is tragic, yes, but Fitzgerald takes on a comic narration. What else is there left when we can only laugh at our pain? There are many beautiful lines in this book like "Annie fell in love with RPD absolutely and hers must have been the last generation to fall in love without hope in such an unproductive way" (96) and "The BBC is doing gits bit. We put out the truth, but only contingent truth, Annie! The opposite could also be true! We are told that German pilots have been brought down in Croydon and turned out to know the way to the post-office, that Hitler has declared that he only needs three fine days to defeat Great Britain, and that there is an excellent blackberry crop and therefore it is our patriotic duty to make jam. But all this need not have been true, Annie! If the summer had not been fine, there might have been no blackberries" (102). Despite the beautiful prose like poetry, most people dislike the book because they don't get her but even if you do, I have to admit Fitzgerald's brilliance shines through but not always.
Review by qofd
16/06/2015
I didn't really get this book, I didn't particularly enjoy it and I am just glad it was only brief.
Review by RandyMetcalfe
16/06/2015
Set amidst the arcane workings of the BBC at its Broadcasting House headquarters in central London during the darkest days of WWII, <i>Human Voices</i> follows the passions and whimsy of senior staff and junior staff as they struggle to make themselves heard in a world turned on its edge. Fitzgerald's BBC emerges from her direct experience at the time, but even thirty or sixty years after the events depicted, much of the aura of the BBC remains. The Corporation, as it is sometimes called, is like a hulking vessel being manoeuvred by minuscule human tugboats. Yet somehow, as Fitzgerald makes clear, it really is individuals, real live human beings who make this beloved institution function. And perhaps that is why so many of us are committed to it despite its faults.At times the writing is brilliantly funny. At times it is incredibly atmospheric, almost as chaotic as the myriad of storylines and interests racing through the city at that time. But it is the characters, or rather the characters with Character that make this story come to life. Fitzgerald abjures caricature. The characters, however peculiar they might appear, are entirely recognisable British figures. That she can make us care for them is a remarkable testament to her skill. And while the madcap nature of some of the events links this novel back to her first hilarious effort with <i>The Golden Child</i>, the studied intelligence of the presentation of an entire complex, even byzantine, structure points towards Fitzgerald's late great novels.Pleasantly recommended.
Review by AdonisGuilfoyle
16/06/2015
I loved the ingredients of this story - Penelope Fitzgerald's style and wit, the glimpse into the past of both London during the Second World War and the BBC, the character vignettes - but unfortunately the novel as a whole failed to come together for me. Two ridiculous men, whose job titles are a jumble of letters, and the underlings who serve them at Broadcasting House (beautifully described as looking like an ocean liner with the wrong kind of windows) navigate a range of national and personal obstacles ('We're only really at home in the middle of total disaster'). Other than that, I'm not sure there is a plot, and the final twist in the tale is just pointlessly cruel. However, I will not be put off reading more of Penelope Fitzgerald's stories because of this non-starter.