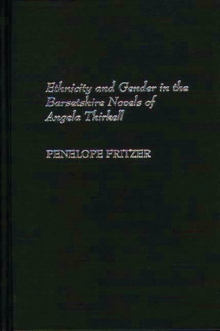 Ethnicity and Gender in the Barsetshire Novels of Angela Thirkell
Hardback
Description
Angela Thirkell wrote more than 30 comic novels that spanned the period between 1930 and 1960 in England.
Beginning in 1933, the books are set in Barsetshire as extensions of the seven Barsetshire novels of Anthony Trollope.
In her works, Thirkell creates a world in which minor characters from one novel appear as major characters in another, and in which her various figures go to school, court, marry, give birth, bring up their children, retire, and die.
The domestic concerns of her novels are set against a time of great stress for England, which witnessed World War II and its social and political aftermath.
While her books highlight the pretensions and weaknesses of various groups in England, her humorous narratives constantly reflect a conservative social and political viewpoint.
There are several strong themes that run throughout the Barsetshire novels, but two of the most notable are ethnicity and conventional marriage-oriented gender roles.
Fritzer's book examines the importance of gender and ethnicity in Thirkell's Barsetshire novels and discusses how her characters convey conservative views within a comic world. Thirkell repeatedly makes clear that England is best, and that it is better to be born English than to become British.
Not many foreigners appear in the early books, and throughout, the ones who do are nearly all caricatures, from the arrogant French to the oblivious Americans.
In her later works, foreigners appear more frequently and are treated with less disdain. Because her books concern the pairing off of couples, marriage and domesticity figure prominently in her works.
Thirkell upholds the idea of conventional, marriage-oriented roles for both men and women, but she includes a benign acknowledgment of homosexuality.
Casual sex and illegitimacy are generally reserved for the lower class.
However, sexuality, for the most part, does not play a large role in the novels and pairings come about more often for reasons of suitability, affection, and financial stability.
Few scholarly works have been written about Thirkell, though her novels are now experiencing a revival of interest. Because gender and ethnicity are central to many contemporary debates, Fritzer's book is a valuable guide to Thirkell's relevance to modern audiences.
Free Home Delivery
on all orders
Pick up orders
from local bookshops
Also by Penelope Fritzer