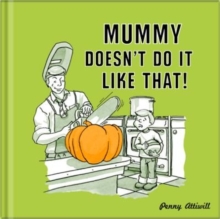 Mummy Doesn't Do it Like That!
Hardback
Description
"Mummy doesn't do it like that!" - an instantly recogisable sketch from this book packed with hilarious cartoons depicting a new father's life with his young offspring.
A follow-up to the bestselling Dog Poo on the Pram Wheels, Penny Attiwill's witty commentary defines with heartfelt warmth - and a twinkle in the eye - thoughts and daily events which will bring a smile of recognition to any new father's face.
From the announcement of the pregnancy to dealing with an inquisitive toddler, Attiwill's gentle humour tells us we are not alone in our bewilderment! Cleverly illustrated in a 1950s satirical style, a new father's life is encapsulated: exhilarating and exhausting by turns, but sometimes, as the book concludes, simply 'picture perfect'!
Information
Format:Hardback
Pages:80 pages, black & white line illustrations
Publisher:Pikku Publishing
Publication Date:18/09/2014
Category:
ISBN:9780992805012