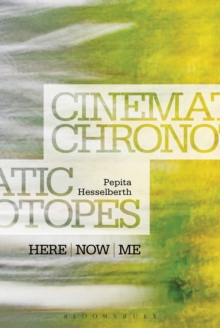 Cinematic Chronotopes : Here, Now, Me
Hardback
Description
The site of cinema is on the move. The extent to which technologically mediated sounds and images continue to be experienced as cinematic today is largely dependent on the intensified sense of being 'here,' 'now' and 'me' that they convey.
This intensification is fundamentally rooted in the cinematic's potential to intensify our experience of time, to convey time's thickening, of which the sense of place, and a sense of self-presence are the correlatives.
In this study, Pepita Hesselberth traces this thickening of time across four different spatio-temporal configurations of the cinematic: a multi-media exhibition featuring the work of Andy Warhol (1928-1987); the handheld aesthetics of European art-house films; a large-scale media installation by Rafael Lozano-Hemmer; and the usage of the trope of the flash-forward in mainstream Hollywood cinema.
Only by juxtaposing these cases by looking at what they have in common, this study argues, can we grasp the complexity of the changes that the cinematic is currently undergoing.
Information
Format: Hardback
Pages: 208 pages, 85 bw illus
Publisher: Bloomsbury Publishing Plc
Publication Date: 14/08/2014
Category: Film theory & criticism
ISBN: 9781623567668