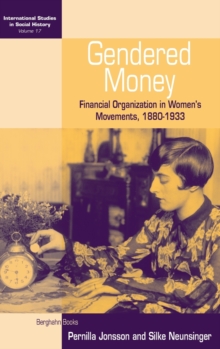 Gendered Money : Financial Organization in Women's Movements, 1880-1933
Hardback
Description
As economic citizenship was a pre-condition of full citizenship, the lack of economic autonomy was an important motivation during the early stages of the women's movement.
Independent of their class background, women had less access to not only financial resources but also social and cultural capital, i.e., member's commitment.
Resources are therefore of particular interest from a gender perspective, and this book sheds light on the importance of resources for women's struggles for political rights.
Highlighting the financial strategies of the first wave of Swedish middle-class and socialist women's movements and comparing them with similar organizations in Germany, England, and Canada, the authors show the importance of class, gender, age, and the national context, offering a valuable contribution to the discussion of resource mobilization theories in the context of social movements.
Also in the International Studies in Social History series | View all