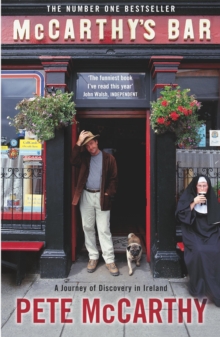 McCarthy's Bar : A Journey of Discovery in Ireland
Paperback
Description
Pete McCarthy's tale of his hilarious trip around Ireland has gained thousands of fans all over the world.
Pete was born in Warrington to an Irish mother and an English father and spent happy summer holidays in Cork. Years later, reflecting on the many places he has visited as a travel broadcaster, Pete admits that he feels more at home in Ireland than anywhere. To find out whether this is due to rose-coloured spectacles or to a deeper tie with the country of his ancestors, Pete sets off on a trip around Ireland and discovers that it has changed in surprising ways. Firstly obeying the rule 'never pass a pub with your name on it', he encounters McCarthy's bars up and down the land, and meets English hippies, German musicians, married priests and many others. A funny, affectionate look at one of the most popular countries in the world.
Information
Format: Paperback
Pages: 384 pages, N/A
Publisher: Hodder & Stoughton General Division
Publication Date: 01/01/2000
Category: Travel writing
ISBN: 9780340766057
Free Home Delivery
on all orders
Pick up orders
from local bookshops
Reviews
Showing 1 - 5 of 5 reviews.
Review by SimonW11
16/06/2015
very enjoyable. For those that dont know Peter McCarthy spends the book wandering through Ireland looking for his roots fortunately for us readers he is accompanied by his very english sense of humour.I believe truly funny books are invariably well written. This book is my witness.
Review by cbertz
16/06/2015
Written like a true would-be Irishman, McCarthy's Bar is an witty funny tale of the Englishman's travels throughout Ireland in search of his namessake's bar. Highly recommend to anyone who loves all things Irish.
Review by gogglemiss
16/06/2015
This was a really funny book, with McCarthy travelling around Ireland, discovering his roots, and staying in oddball B and B's, the loonier the better. The cars he used for getting around, had a personality of their own, and the rich assortment of characters he encountered were a delight. Apart from being entertaining. it was insightful and interesting on the Irish way of life.  
Review by tonidew
16/06/2015
The late Pete McCarthy at the top of his game recounting a trip around Ireland. Thoughtful, educational and very, very funny.
Review by justine28
16/06/2015
I started reading "McCarthy's Bar" months ago and unfortunately didn't like it from the first page. In the end, after couple of months trying to give it another chance, I finally decided to give up and didn't finish the book, which I hardly ever do. My biggest issue was probably pure disappointment with the book. I was expecting a lively and funny book that will do Ireland and its people justice. Unfortunately this wasn't the case and throughout the approx. 150 pages I did manage to read, I've found the book boring and not so funny and the author very arrogant, pompous and simply repeating stereotypes while not being able to enjoy or understand Ireland. I've lived in Ireland (both Dublin and Cork where author was travelling) for 8 years and maybe this is the reason I did not like the book at all and thought it truly wasn't a good representation of the country. I believe there are a lot of Irish authors out there more worthy of reading that would truly show the soul of Ireland, the good and the bad.