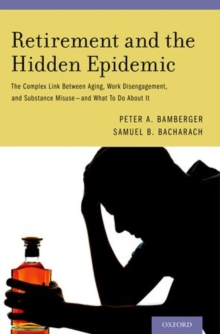 Retirement and the Hidden Epidemic : The Complex Link Between Aging, Work Disengagement, and Substance Misuse and What To Do About It
Hardback
Description
Evidence from both local and national surveys suggests that substance misuse and abuse among older adults in the United States is a "hidden epidemic" that poses a major threat to the welfare and quality of life of older drinkers and their families, and has significant public health implications. Based on their findings from a 10-year, NIH-funded study of retirement, aging, and substance misuse, Peter Bamberger and Samuel Bacharach examine the complex web of factorscontributing to the precipitation and exacerbation of substance problems among older adults.
They discuss the individual and public health implications of such problems, as well as some of the evidence-based steps that may be taken to prevent their emergence and help those in need of assistance forpolicy-makers and health practitioners.
This book provides a single-source review of the latest research assessing the magnitude and costs of older-adult substance abuse, as well as detailed analysis of the epidemiology of older-adult substance abuse.
The authors provide an analysis of the efficacy of alternative prevention and treatment strategies, and present scientific evidence in a user-friendly format, highlighting extensive interview data to accompany their statistical results.
Theillustrations offered by these real life cases not only provide a sense of richness and understanding to a complex issue, but also offer a fitting reminder to the reader that this is an issue affecting people we know and families like our own.
Free Home Delivery
on all orders
Pick up orders
from local bookshops